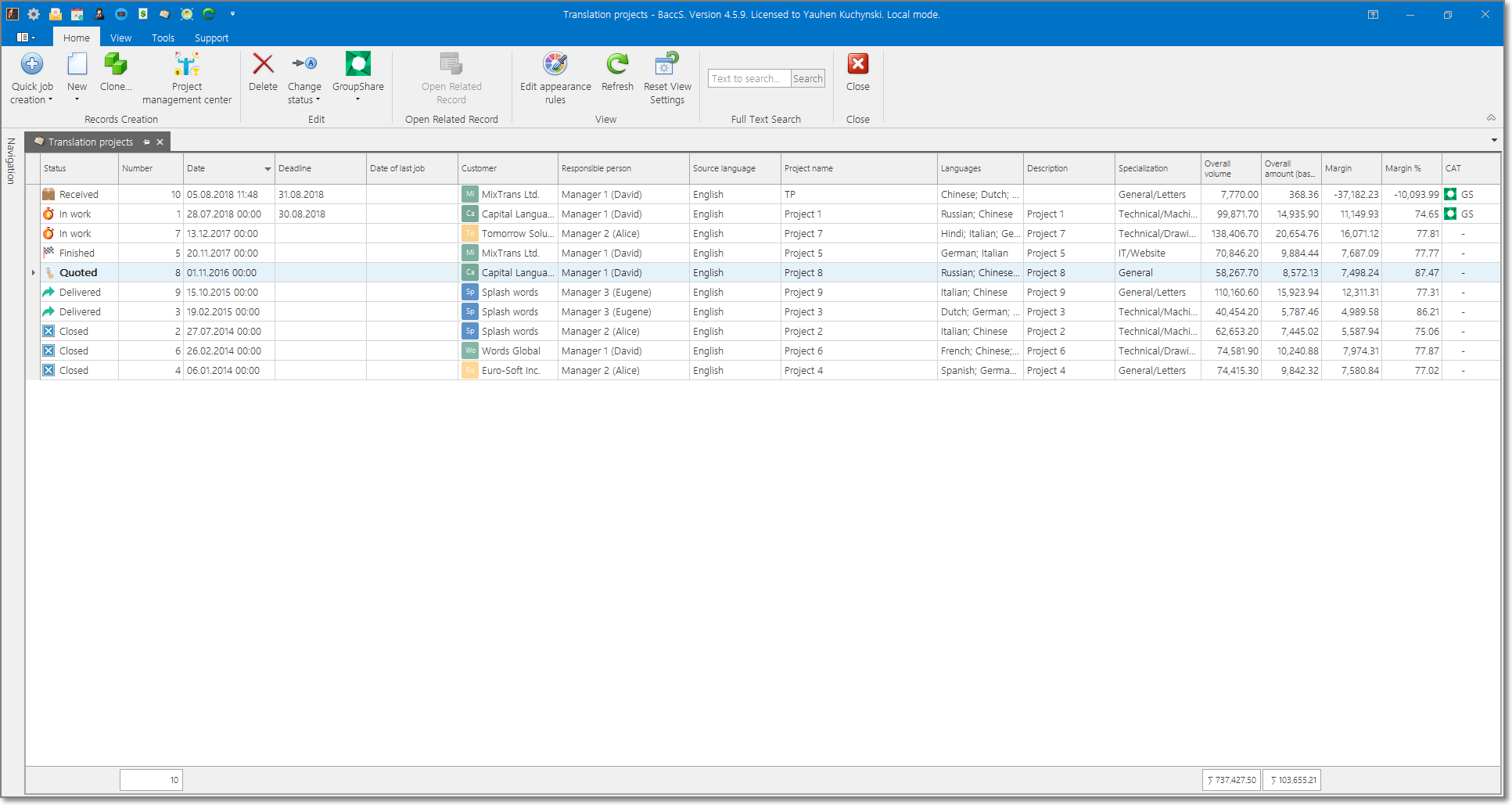 Translation project list
To account incoming work in BaccS, the following terminology/hierarchy is used:
translation projects
-
translation jobs
-
translation job tasks
. While translation projects are placed at the top of this hierarchy and are used to aggregate translation jobs, this an optional entity, which is not required to create
translation jobs
, which are the only entity type to account performed tasks.
From the other hand, when your project includes multiple target languages, requires to employ external vendors and perform a lot of management tasks, it is recommended to create projects. It will allow you to view all jobs and assignments on one screen, view project results (total amount of jobs and assignments, margins, effectiveness).
For freelance translators, projects can be used for grouping long-running project which include a lot of jobs paid/invoiced separately. It is fully allowed to not specify a project in a job (the field may be left empty). But when you specify a project in a job, job amount and quantities will be added to the project. As a result, you will be able to see how much jobs were included in particular project, how much words you translated or hours spent, when the project has been started and when the last job has been done. Except aggregation, projects can be used in CVs - you can mark which projects must be included in CV to highlight the most interesting/important projects in your career.
If a project is linked with GroupShare project, you can track its status by displaying Progress column in the list. To do this, right click on the table header, select Column chooser, and drag Progress field to the table.

Take a note on a special Quick filters button in the project list, which not only provides another way to quickly filter list of projects, but also displays amounts for last 12 months and top customers: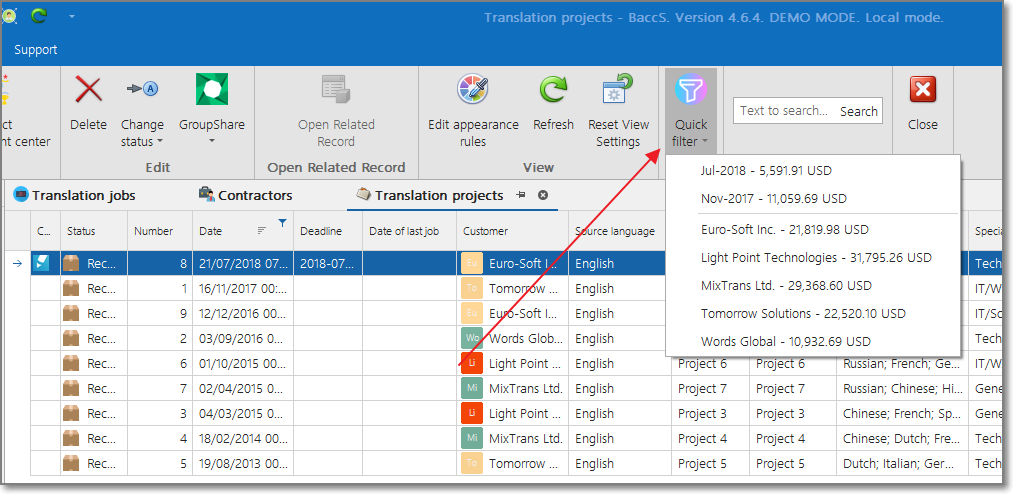 Top part contains list of months and amounts, while lower part lists top customers with amounts. Select any item in this list to filter list of jobs by month or by customer.
From Translation project you may open
Translation Management Center
, which simplifies such tasks as batch job creation and editing, job and assignment planning, picking-up vendors, sending availability messages, etc.
To create a project, click New button in the Project list and start filling data. Select status, date and deadline, customer, default fuzzy scheme for project jobs, specialization, PO number, etc. Responsible person field is intended only for teams and allows to select staff member responsible for this project. Later you will be able to generate reports showing performance of each staff member. Then, on the Languages tab, select source and target languages:

On the
File attachments
tab you can add project files
(source files, reference files, glossaries, TMs, etc.). These files are stored directly in the database and not linked with source files on your hard drive. Also, they can be stored in one of supported cloud drives (Dropbox, Google Drive and Microsoft OneDrive). Once the file is attached, it can be deleted or moved on the hard drive. (but not on cloud drive). Please use this function with care, because it leads to database file size growth. Currently, maximum file size in a local mode is 4 Gb. In network mode, file size is unlimited. To attach a file, click on the
Add from file...
button (
). After selecting a file, specify its type in the
File type
column by selecting necessary value from the underlying reference table (you may create additional file types on fly).
. These files are stored inside database, and available to other users who may open this project from another computer or web-version.

On the
Files (on disk)
tab you may select a local folder where project files are stored. Use this tab if you don't need to provide access to project files to other users. These files are stored only on your computer and not available to others.
Detailed information about working with file can be found in this article.
To view detailed project information, simply open its editing form: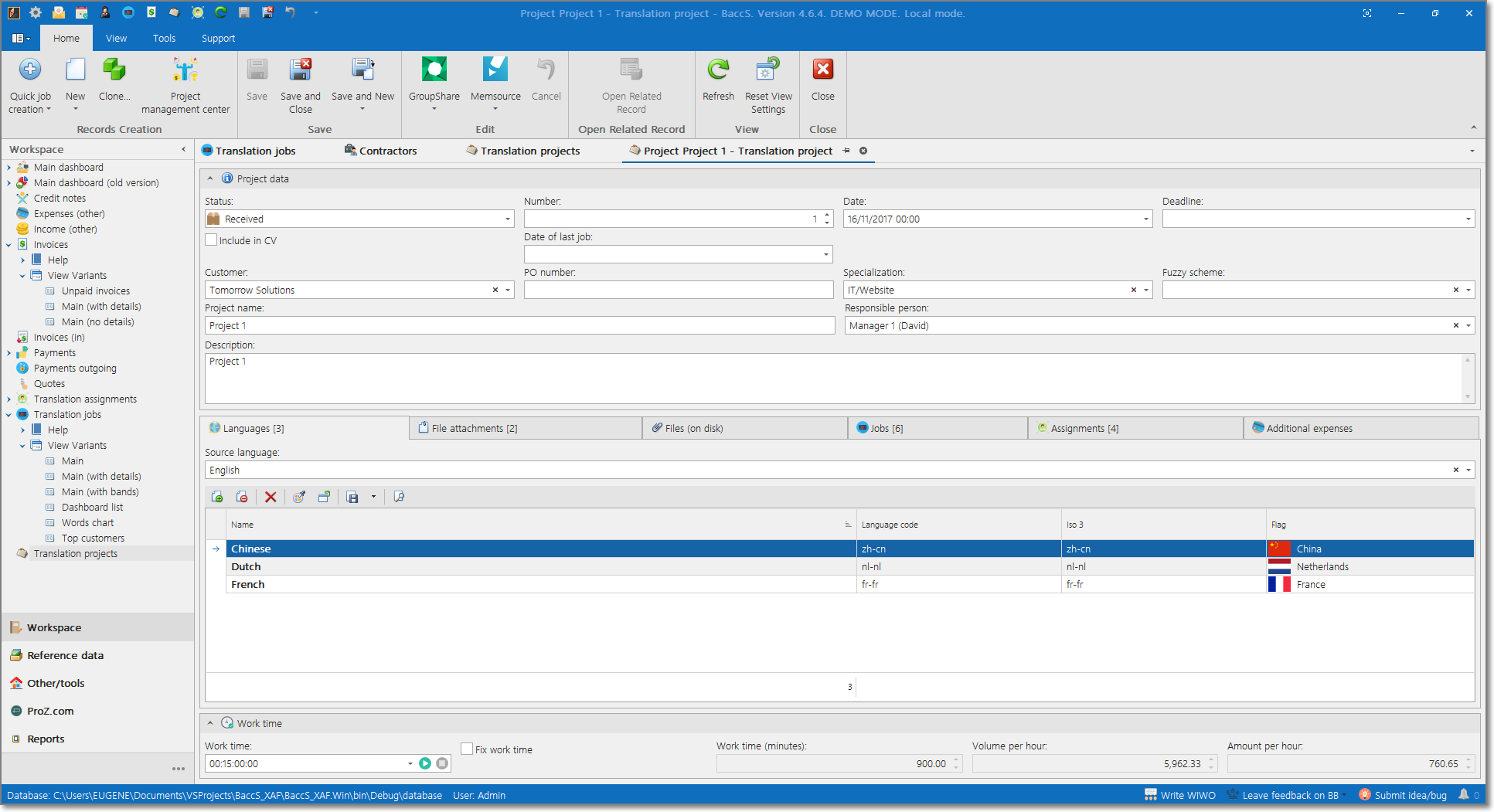 Except default fields (like date, deadline, customer. specialization), you can define default fuzzy scheme, which will be used in all project's jobs, you can select source language and target languages (Languages tab), attach files (File attachments tab), and select project folder on hard drive and view files (Files on disk tab).

Additionally, Work time group below tabs allows to view summary of time tracking data from all jobs belonging to a project. Data displayed in this group will be correct only if you correctly fill corresponding fields in jobs. Here you can get some statistical information, like total work time in minutes, processed volume per hour and income per hour.

List of translation jobs displayed in the project editing form is identical to the general list, with the same conditional formatting rules applied. You can create, edit, delete jobs from this list, as from the general list.

Project editing window also contains Assignments tab. In this tab you will find all translation assignments which are linked with jobs which belong to this project.

Additional expenses tab contains expenses linked with this project. When the system calculates margin, additional expenses are taken into account as well.

Project list has a number of columns which are hidden by default: Additional expenses, Assigned amount, Create/modified at, Created/modified by, Responsible person, PO Number. To show them, use Column chooser function (right click on the table header and select Column chooser).

To quickly change status for multiple projects, select them and click Change status button on the ribbon (or right click and select it from the context menu).