On this step you can define how many assignments will be created per each job, plan their start and end time, select contractors (if you already know who will perform one or another task), and split volumes between contractors.

First thing you have to do is to select Workflow. This value defines number of steps (contractors). When you create a new workflow, you have to only specify which service types it includes and in which order. If source order contains a step defined in a workflow, a new translation assignment will be created. If a job contains a service which is not defined in a workflow, this service will be included in the first assignment.

Example. Your job contains the following services: translation, proofreading, editing. But workflow includes only translation and editing. In this case, the system will create 2 assignments: first one with translation and proofreading, and second one with editing.
After selecting a workflow, click Fill assignments button above the matrix table. The system will generate planned assignments and display them in an easy to use form, where all assignments planned for creation will be grouped by source jobs: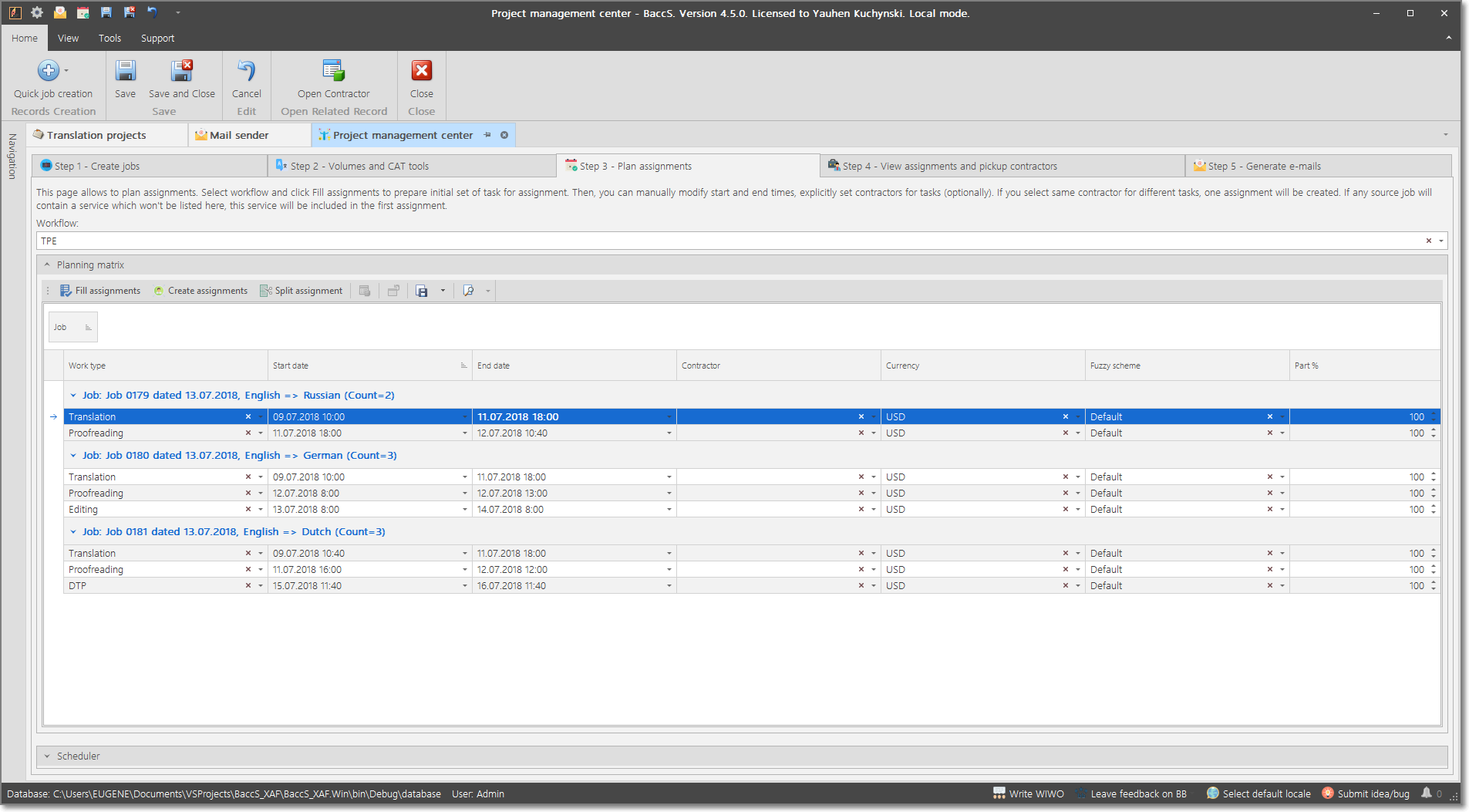 You can make edits in this table, or expand Scheduler to move planned assignments using Gantt chart. If you already know a contractor who will be assigned to any of planned assignments, select him/her in the Contractor column. Drop down list will contain only contractors with specified language pair. If you leave Contractor field empty for any of planned assignments, this will mean that this assignment requires to send availability requests.

If you wish to split particular step between two contractors, select it and click Split assignment button. Enter percentage number to deduct from a selected assignment and click OK. In a result, select task will be split into two, which means that two assignments will be created for the same service. If you still don't know exact split volume, enter approximate value, and later you will be able to adjust tasks in each created assignment.

When you're ready, click
Create assignments
button. The system will create necessary number of assignments and add them to the table on the next step -
View assignments and pickup contractors
. If you selected a contractor, then the system will also calculate assignment amount according contractor's price-list. Of course, you will be able to edit automatic calculations on the next step.