This step provides three important functions:

batch job editing;

project creation in CAT tools;

batch analysis import from CAT tools.

Batch job editing

List on this tab has a grouping by job, so you can easily view tasks from each job added on the
first step
. You can simply edit values in cells, as you do that in the job editing form. The difference is only that you can edit tasks from multiple jobs simultaneously! All other functionality is the same: the system automatically picks-up customer prices, you can create missing reference data on fly, etc. This means that you can use Translation management center explicitly for batch editing job tasks from any number of selected jobs. After finishing editing, don't forget to click
Save
button on the ribbon.
If you wish to add the same service type to all jobs, click Add a new service to all jobs button. Enter service type, quantity and unit, click OK, and the system will add it to all jobs. The you can adjust quantity for each job, if it should be different. Nice example when this button can be used is when wordcount for all jobs is identical, or when you wish to add such service as Proofreading, Editing or DTP to all jobs.

Also you can use Add a new service to all jobs button, if you need to add a service only to a single job. To use this function, you have to select any tasks from a job where you wish to add a new service.

This is one of the most important features provided by Translation management center. It allows to quickly create a project in one of the following CAT tools: SDL Trados Studio (desktop), SDL GroupShare and Memsource.

To create a project in Trados Studio, click Create a project in SDL Trados Studio button. You will see project creation window: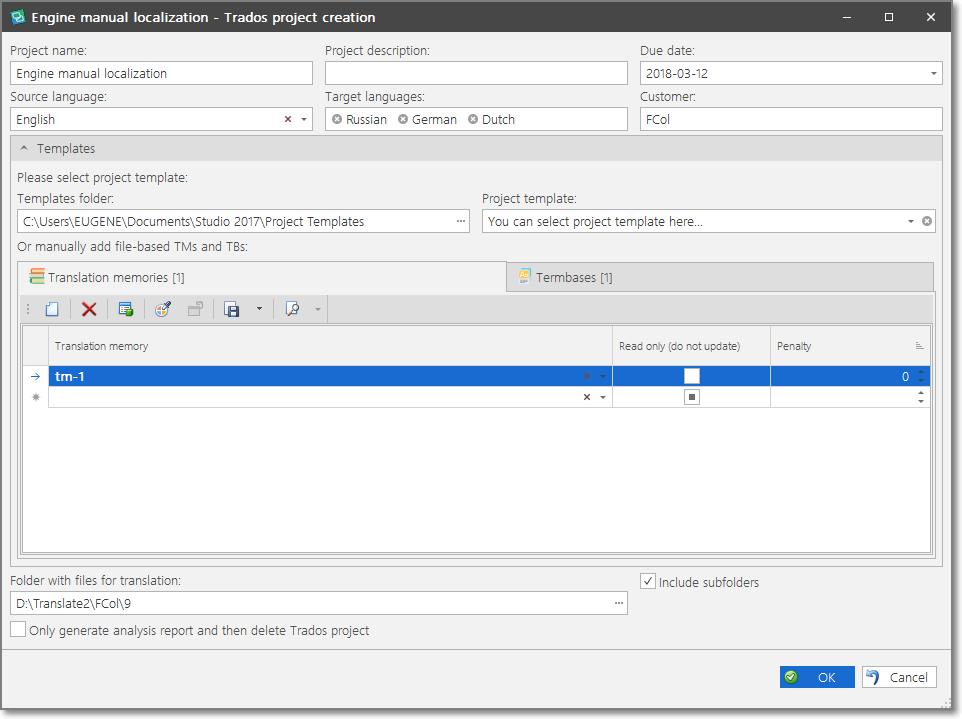 Fill-in all fields, including target languages, project template (optionally), folder with files, and click
OK
button. The system will create a project in Studio, generate analysis reports, and open analysis import window, which will contain analysis information for all languages. Set parameters in this window according procedure described in the
Creating jobs from CAT tools and analysis files
article. Click OK again and analysis results will be imported into corresponding jobs, according their languages. Customer prices will be automatically applied, and you will see results in the main table. Now you can make necessary changes in the table as per instructions above.
The same procedure applies to GroupShare and Memsource: click corresponding button to create a project, select files and other required parameters, click OK, wait until project will be created in the cloud, and import analysis.

When you create a project in GroupShare or Memsource, analysis results won't be downloaded automatically, because some time is required to generate analysis files on the server. When analysis files will be generated, you can click Import analysis results from GroupShare or Import analysis results from Memsource and continue with default procedure of analysis import.