OVERVIEW
Translation jobs are the heart of the BaccS. After all, it was designed to provide project management and invoicing features, which are closely connected. Everything starts from finding clients and doing jobs. Every job should be documented. The Job document is intended to solve exactly this task. When a job is created, it is necessary to 'describe' it as fully as possible. In BaccS, this description includes the following data: job status, date, deadline, client, currency, work field, purchase order information, project name and text description, main project (which aggregates a number of jobs), language direction and the list of tasks. List of tasks, in its turn, contains specific actions you perform during this job. For example, translation, proofreading, alignment and other tasks. Every task is described by numbers, expressed in different units, which totally give final job amount. So, each task has the following attributes in BaccS: work type (for example, 'Translation'), fuzzy type (for example, 'No match' or 'Repetitions'), quantity, rate (price) and amount. Below it will be described in details. Take a look at the job creation form: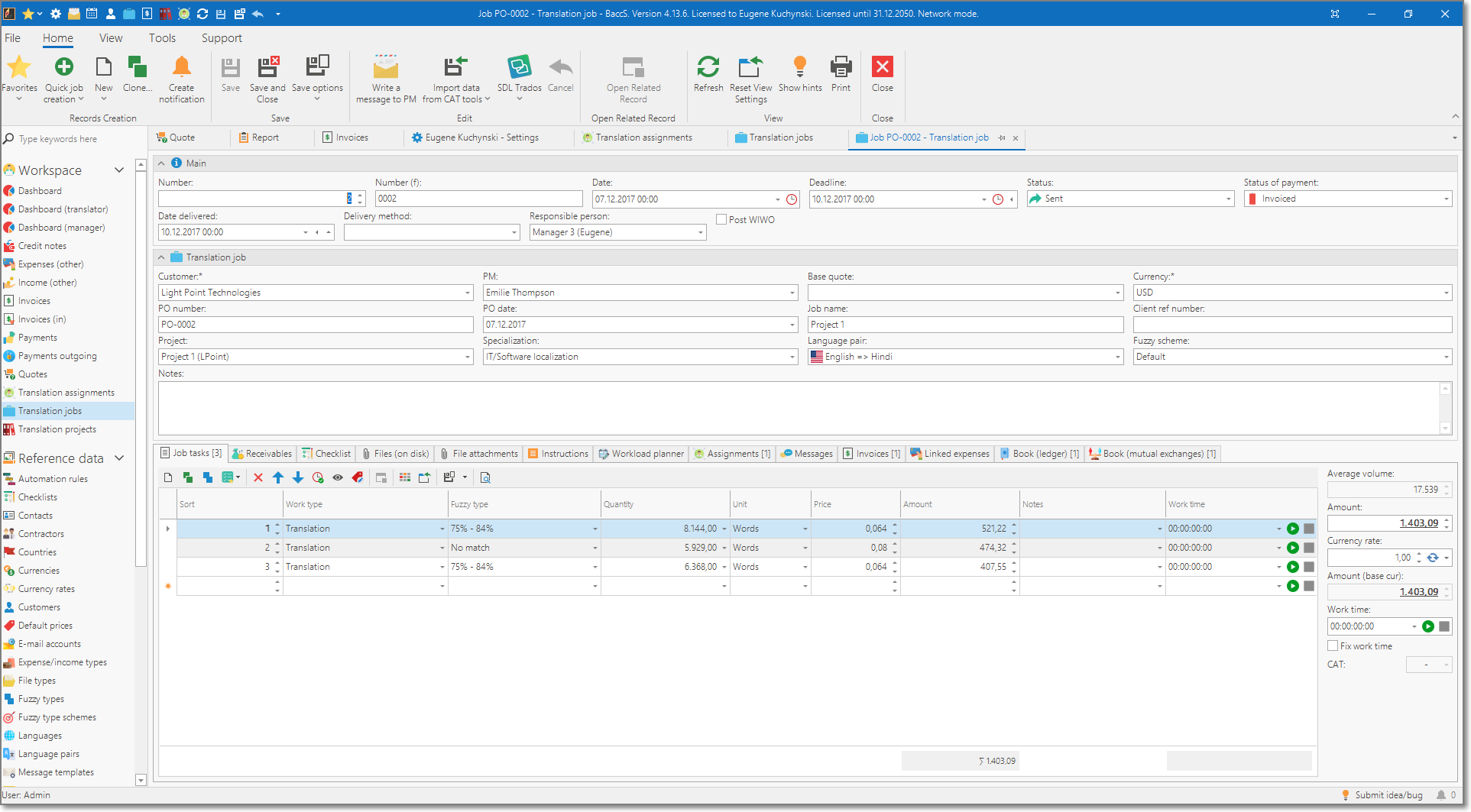 JOB EDITING FORM: FIELDS DESCRIPTION
Number is a simple internal number. It will also be used when printing a quote. When the project is created, a new incremental number is assigned automatically. If you use letters in this field, than the system won't be able to automatically assign new numbers.

Deadline field contains deadline of the project. You can specify day and time of delivery. By default, time is set to a time which is specified in the program settings, under Productivity settings tab. This field is displayed on the dashboard. And the row color in the list of projects depends on this field. If delivery day is today, than this project will be marked as urgent (red color). If delivery date is tomorrow, than it will be marked as 'Soon' (green). Other rows won't have any colors.

Status of work (or Work st. in lists)

field describes the work state of a job. You can choose one of the following statuses:
Received, On hold, Processing, Partially finished, Finished, Sent, Cancelled, Rejected
.
Received
is used when the project arrived but still not confirmed (preparing a quote). In this case it is not included into the client's balance.
Processing
- you're currently working on the project.
Finished
- the project is finished but hasn't been sent still.
Sent
- project is sent and can be invoiced and paid.

And
Rejected
- project is sent, invoice is issued but for some reason the client rejected to pay. In this case this amount is excluded from the balance with the client. Also, Rejection date field appears to enter the date when the job was rejected. When status is changed from Processing to Sent, Delivery date is set to the current date and time. Also you can transfer data from deadline to delivery date by pressing corresponding button in the

Date delivered

field.
Status of payment (or Payment st. in lists)

field displays payment state of a job. Usually it changes automatically when you create invoices over jobs and payments over invoices. The following statuses are available: Not invoiced,
Invoiced, Partially invoiced, Paid and Rejected
. Initially, all jobs get Not invoiced status by default. When you create an invoice, it changes to Invoiced or Partially invoiced (depending on amount of job included in an invoice). And when you create a full payment (or payments) over all invoices issued over particular job, status automatically changes to
Paid
.
Delivery method
field is a simple way to save a method of delivery. This is a drop-down list which is populated on the base of previous values. If necessary value is missing, simply type it here. Next time it will appear in this list.
Post WIWO
check-box allows to create WIWO (What I'm working on now) entry on ProZ.com after saving a job. If to check this mark, then after saving a job WIWO editing window will appear with some pre-filled data. You ill be able to make necessary corrections and click OK to send information to the WIWO service.
Customer
and
PM
fields, as expected, allow to select a customer and your project manager. After selecting particular customer list of PMs will allow to select only a contact which belongs to a selected customer. By default, when you change a customer, previously used contact will be automatically selected in the PM field.
To quickly view default rates for the currently selected customer, just hover mouse pointer over
Customer
field. You will see a tooltip with customer's price-list. If tooltip is not shown, this means that this customer has no default rates defined.
Currency
allows to select a currency used to estimate job amount.
Specialization
allows to specify a specialization of the job. Translators usually work in a lot of different fields, which vary in difficulty. Dividing projects by work fields helps to generate stats and to see the fields in which you perform better. This information could be included in the CV to allow potential clients see statistical expression of your experience. So I recommend to create as many fields as possible, it will help to get more detailed stats in the future.
Next four fields:
PO number, PO date, Job name
and
Client ref. number
contain purchase order details.
Responsible person
field is intended only for teams and allows to select staff member responsible for this job. Later it will be possible to generate reports showing performance of each staff member.

When
Responsible person
is selected, and a user exists in the system which is linked with that responsible person, then that user will get notifications about created job or changed status.
Project
field allows you to select a "big" project for this particular job. It is a common thing when you get translation projects from the same client on a regular basis (say, every week). But all of them belong to one big project you work during a long time. For this reason, there is a 'Main project' document in BaccS. You create main project, and then select it in particular jobs. Then, it is possible to see the list of projects for any main project along with total wordcount. Very useful feature to control the list of special projects in translation career.
​
Job tasks
and
Receivables
tables contain job description with all actions required by this job, prices and amounts. Please go to the
corresponding section
with detailed description of these tables. When you add or edit rows in the job tasks or receivables tables, job total amounts (at the right of these tables) will be automatically re-calculated. If currency of the project differs from your base currency selected in the profile, then the system will try to get currency rate to convert project amount into your base currency. If the rate is missing in the
Currency rates
list, then default rate will be used (1). In this case, you can download currency rate by clicking corresponding button onside this field. Or you can open
Currency rates
list and add missing rate there. Then go back to a job and re-calculate amount.
Instructions
tab allows you to specify instructions for particular job. It fully supports formatting to highlight important points:
File attachments
tab allows to attach job files
(source files, reference files, glossaries, TMs, etc.). These files are stored directly in the database and not linked with source files on your hard drive. Also, they can be stored in one of supported cloud drives (Dropbox, Google Drive and Microsoft OneDrive). Once the file is attached, it can be deleted or moved on the hard drive. (but not on cloud drive). Please use this function with care, because it leads to database file size growth. Currently, maximum file size in a local mode is 4 Gb. In network mode, file size is unlimited. To attach a file, click on the
Add from file...
button (
). After selecting a file, specify its type in the
File type
column by selecting necessary value from the underlying reference table (you may create additional file types on fly).
. These files are stored inside database, and available to other users who may open this project from another computer or web-version.

On the
Files (on disk)
tab you may select a local folder where project files are stored. Use this tab if you don't need to provide access to project files to other users. These files are stored only on your computer and not available to others.
Detailed information about working with file can be found in this article.
On the Linked expenses tab you can create new expense or add existing expense to a job. As a result, some expense will be linked with a job and this expense will be automatically included in an invoice created over this job.

Book (ledger)
and
Book (mutual exchanges)
tabs allow to view records created by a job in a corresponding accounting books. These tables can be edited manually and get filled only after saving a job.
WORKLOAD PLANNER TAB



On this tab you can define planned work periods for a job:

When Workload Planner feature is turned on in the
Program Settings
, this table will be automatically filled when you save a job. You can manually adjust entries created by default. To do this, mark
Manual allocation
checkbox and make necessary changes in created rows.
To allow automatic planning system to include weekend days (Saturday and Sunday) while allocating a job, mark Allow weekends checkbox.

Start time and End time optional columns allow you to define time period for each working period. By default, the program uses work day periods defined in the program Settings under Productivity tab. When Scheduler function is used (turned on on the Program settings), the system will create corresponding appointments in the calendar (with specified time periods).

ADDITIONAL COMMANDS IN THE JOB EDITING FORM
Save and invoice command allows to save currently edited job and immediately create an invoice over it. The procedure is the same as described in the
Invoices and payments
article. The only difference here is that this command allows to save few clicks and do invoicing operation a bit faster.
Import data from CAT tools
button allows to import analysis reports generated by CAT tools or even import analysis data directly from a CAT tool installed on your computer. Please read
this article
to get detailed information.
Create translation assignment
button allows to allocate a job to external contractors. Read
this article
to get detailed information about assignments.
Link with a CAT project
button allows to link a job with a project created in SDL Trados to display its progress in the job list.
QUICK JOB CREATION FUNCTION
There is
Quick job creation
button on the ribbon. It contains a sorted list of customers you've recently did work for and custom list of
job templates
. Select any customer or a template, and a new job will be created based on the most recent job you did for the selected customer or a selected template. Also, you may select
Empty job
to quickly create an empty job, regardless which form you're currently viewing.
List of customers and templates is updated on the program launch. To refresh it, click
Refresh list of customers
item, which is very first item in this drop-down list.