Creating a job

After you have created a project in Trados Studio, you can quickly register a translation job based on it. Before doing this, check the following:

You have created a customer in BaccS and added default prices for this customer (or, at least you should have general default rates created in BaccS).

You have create necessary specialization in BaccS, as it will be needed to select it before creating a job).

Click Create a job button on the SDL Trados Studio toolbar. You will see the following window: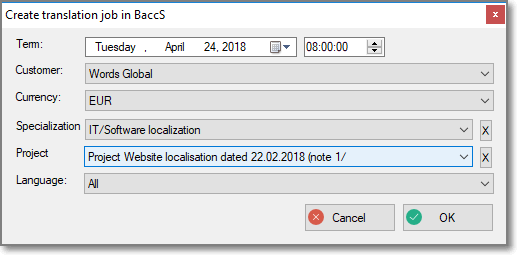 The Customer, Currency, Specialization and Project fields allow to select data from your BaccS database. In the Language field you can leave All value (all languages will be transferred into a quote) or you can select specific language for quote creation.

Click OK to start creating a quote. Switch to BaccS, where you will see default analysis results import window (see example above, in the Create a quote section). When ready, click OK to finish importing analysis results. A new job will be created (with correct sequential number, filled-in fields, picked-up prices, etc.) and job editing form will be opened in BaccS:

You can adjust information and click Save to confirm changes. Done - your job is registered in the system, linked with Trados project, and ready to be invoiced.

Creating an invoice
If your BaccS database contains a job linked with a project created in SDL Trados Studio, you can create an invoice right from within Studio. No need to switch to BaccS, open list of jobs, find necessary job and click Create invoice button. You can do this from Studio, and a job in BaccS will be automatically marked as delivered.

To create an invoice, select a project in SDL Trados Studio and click Create an invoice. The system will try to find translation job in BaccS database. If such job won't be found, you will see corresponding message: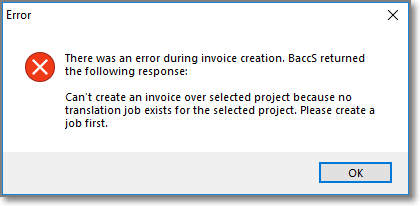 Otherwise, you will get confirmation message in Studio, and new invoice editing from will be opened in BaccS:

Again, all fields will be automatically filled-in. If default tax is selected in the customer settings, this tax will also be automatically applied. Just check payment term, specify contact person (if needed), or other details, and then click Save button. When invoice is saved, it can be printed (Print button):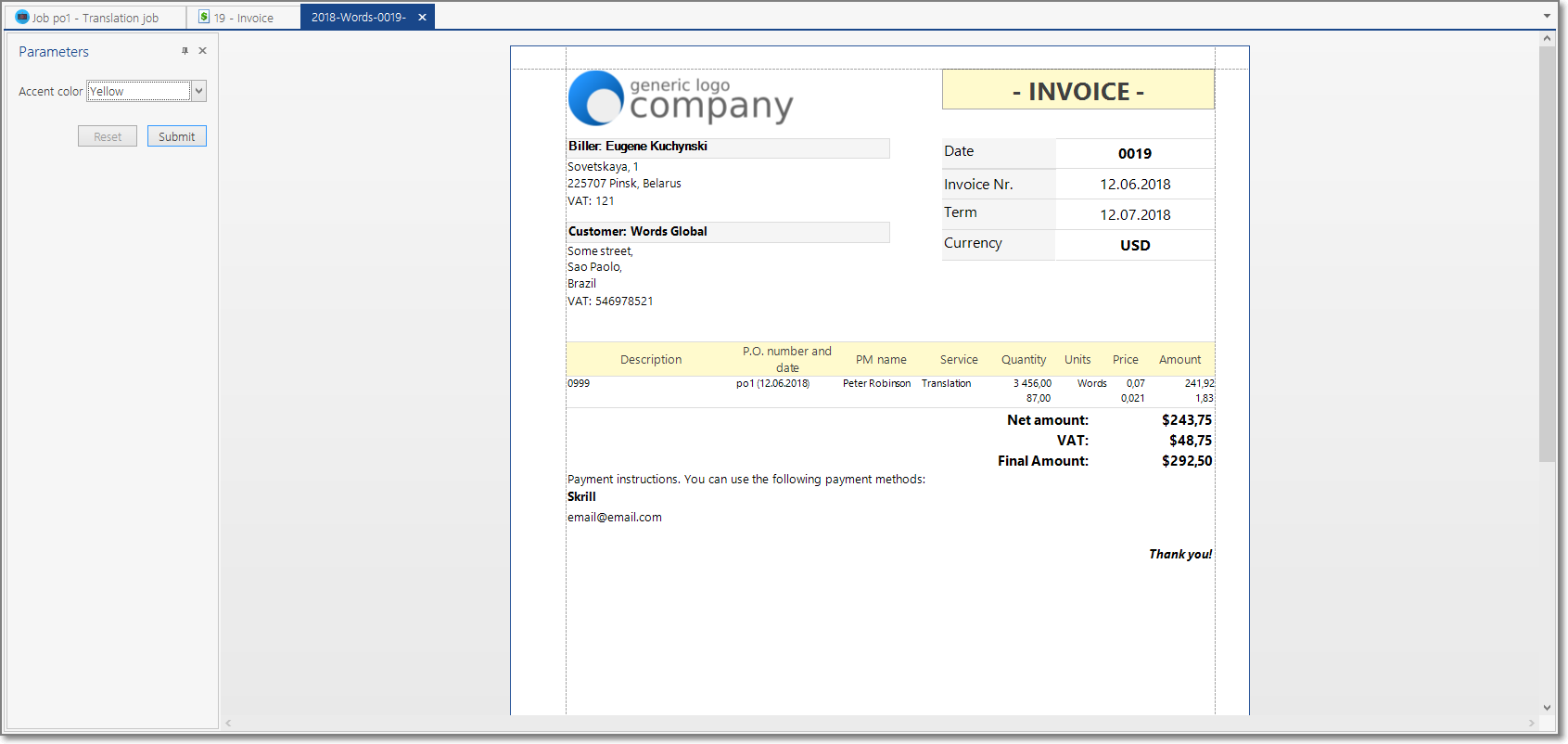 As with quotes, from this window, you can export a quote to a number of supported formats, save it as PDF and attach to an Invoice document (for later viewing or sending), send by e-mail using your default Windows e-mail client, or send by e-mail using BaccS
mail sender
.