Installation
To use integration features with SDL Trados Studio, you have to install BaccS plug-in, which is available here:

If you have any ideas about future plug-in development, please share your thoughts at
admin@ibaccs.com
.
Features
This plugin is free to use, and its functionality is divided into 2 parts:

It provides built-in accounting functionality in SDL Trados Studio;

It serves as communication bridge between SDL Trados Studio and standalone BaccS application.

List of features:
Studio built-in features:


Create and print invoices and quotes right inside Studio, without need to install BaccS main application. This functionality is available for free for all users.

Time tracker inside Studio with possibility to add time to invoices.

Dashboard with charts.

Invoice and quote template designer.

Integration features between Studio and standalone BaccS application:


Communicate between Studio and standalone BaccS application to automatically create translation jobs, quotes and invoices. This functionality requires to install full version of BaccS.

Communicate with standalone BaccS application to automatically create projects in Studio based on Translation jobs created in BaccS, publish projects to GroupShare, etc. This functionality also requires to install full version of BaccS.

Main window
After installing the plug-in, you will notice the following changes on the Trados toolbar


To use any last three buttons (those with small icons), you have to launch BaccS main application first.

In addition, a new item will be added to the Studio navigation menu:

This view provides access to all plug-in view, including Invoices, Quotes, Options and Reference data tables, which are described below.

Setting-up

If you're going to use functionality which does not require to install main BaccS application, then you have to setup plug-in first. In the navigation tree, select BaccS TMS view to switch to the main plug-in window: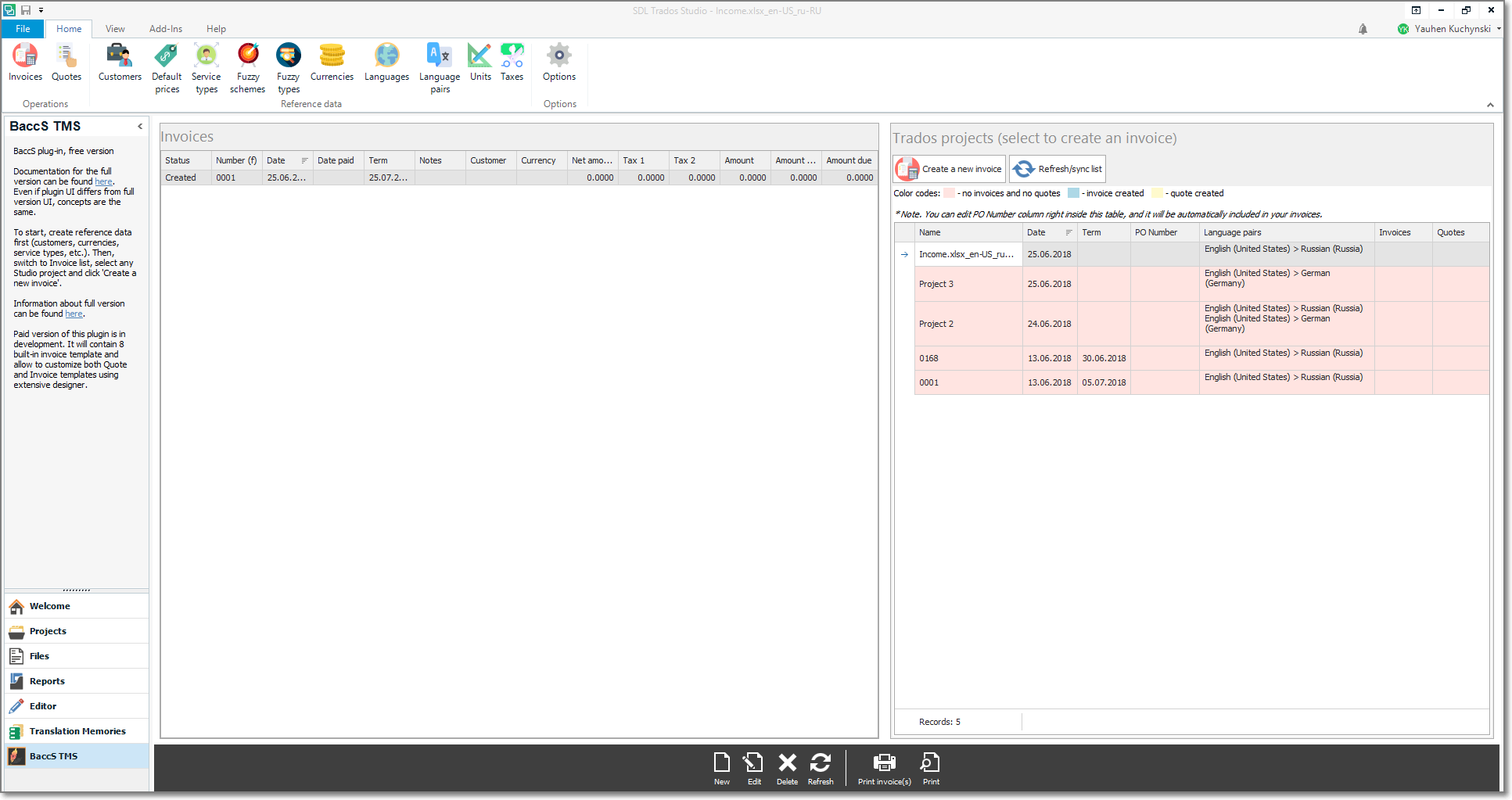 SDL Trados plugin
By default, you will see list of invoices. On this view, click the following buttons on the toolbar to configure the plug-in:

Options (here you specify your main data and contact information, select invoice template, numeration rules, default values (currency, service type, etc.), set your company logo, specify time tracker settings (auto-SDL Trados plugin main menustart and auto-pause), etc.);
Reference data > Taxes. Create taxes which you usually include in your invoices.

Reference data > Units. Create units you use to count your work. By default, a number of units will be created (Words, Hours).

Reference data > Currencies. Create currencies you use to create invoices/quotes. By default, a number of units will be created (USD, EUR);

Reference data > Fuzzy types. Create fuzzy bands you use in Studio. By default, standard fuzzy bands are created, and if you don't change Studio settings, there is no need to make changes in this list as well.

Reference data > Fuzzy schemes. Here you can create different fuzzy schemes. Each fuzzy scheme allows to specify different fuzzy weights (for example, one customer applies 10% factor for Repetitions, while another may use 0 or 5%). For these purposes, you may create different fuzzy schemes and apply to different customers by default.

Reference data > Service types. Create necessary service types. By default, Translation, Proofreading, Editing and DTP are created.

Reference data > Default price. Here you can create default (general) prices applied to all customers (when a customer does not have individual price-list).

Reference data > Customers. Create your customers. You can specify main data, contact information, default currency, default invoice template, default fuzzy scheme for each customer. Also, you can create individual price-list for each customer. If you create at least one price for a customer, the system won't use prices from Default prices table during invoice/quote creation for that customer.

To create an entry in any of listed tables, click New button on the bottom toolbar, fill-in required fields and click Save and close.