To create a new project in the desktop version of SDL Trados Studio, please do the following:

1a. Create a new job. Important requirement here is that Language pair must be selected, and Language code of both source and target languages must correspond to language codes used in Trados (en-us, ru-ru, de-de, etc.).

or

1b. Create a new translation project. Fill source language and target languages.
2. Switch to the Files (on disk) tab and select job folder. This folder can be determined automatically (see
Program settings
). Put files for translation into this folder.
3. Click SDL Trados - Create project and (or) analysis on the ribbon. Project creation window will appear, where you can change default values:

Check Only generate analysis report and then delete Trados project box if you wish to only count words/characters in files without project creation.

4. Select source and target languages.

5. Select translation memories. If necessary translation memory does not exist in the drop-down list, click New and specify translation memory file location. Click Save, and a link to a new translation memory will be added to the database, which allows you to use it in future by simple selection via drop-down list. When a memory is selected, please set Read only and Penalty options, when needed. These options are used when you add multiple translation memories to a project.

6. Switch to the Termbases tab and select termbases you wish to use in a project:

By default, the system will add termbases which contain project target language. You may remove them by clicking
Remove
button (

). To add a new termbase to a project, click
Add
(
) button. To delete termbase definition from BaccS database, click
Delete
(
) button. If necessary termbase is missing in your database, click
New
button (

) to add a termbase from your hard drive. When you create a new termbase, please do the following:
6.1. Specify File path and Termbase name (automatically detected based on file name).

6.2. In the Language correspondence table click Retrieve languages from TB button:

6.3. Select Language value in the Corresponding language column for each language index retrieved from provided termbase:


This step is required because language index column in your termbase file may have any name, and it is not necessary that it will match language name. For this reason, SDL Trados Studio requires to set language mapping. Please see SDL documentation:
Adding termbases to projects
.
7. Instead of selecting translation memories and termbases on the previous step, you may select Project template, which already contains predefined project creation settings.

8. Click OK. Trados plug-in will start working (Loading window will appear in Studio showing progress of project creation).

9. When finished, Loading window will be closed and you will see resulting message. If this is an error message, please fix error reason and repeat the process.

9. If operation has been successful, two events will happen:

9.1. Created project will be opened in SDL Trados Studio: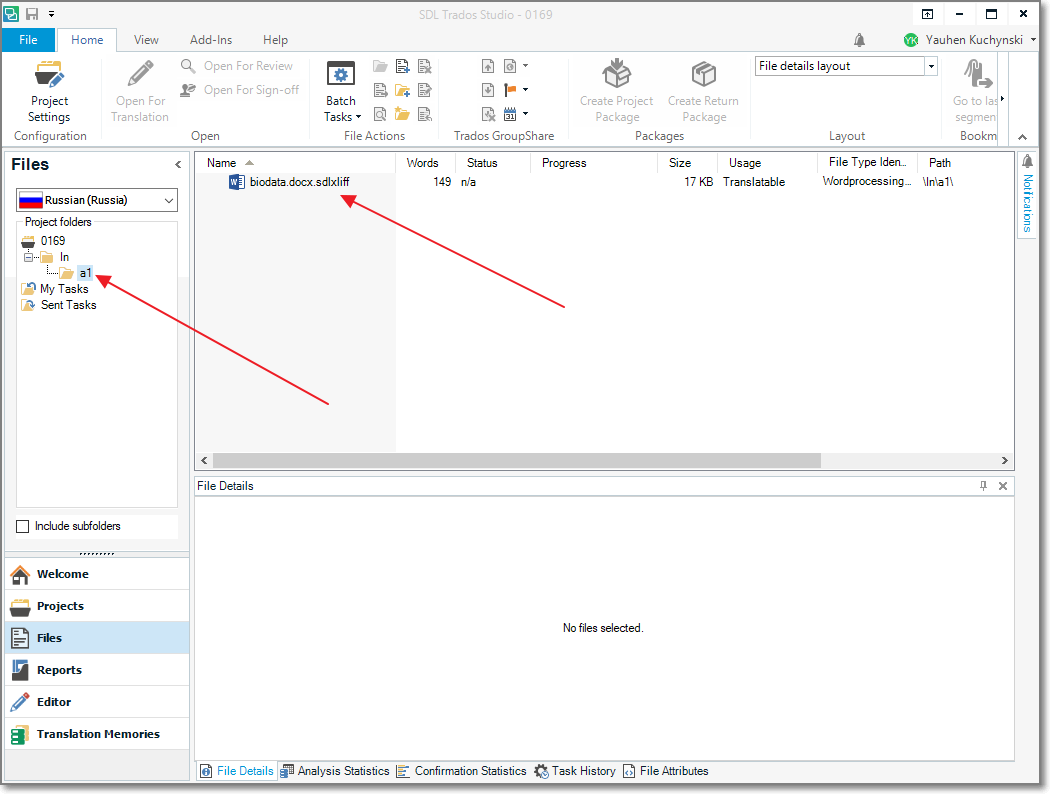 9.2. Import analysis report window will be opened in BaccS which allows to import analysis results from a newly created Trados project (see