Separate quotes module allows to quickly create quotes, print them using built-in or custom templates, quickly create translation jobs from quotes and view reports showing effectiveness of your quotations.

Quote list
To view quotes, select Operations in the navigation tree and click Quotes:


To send a message with a generated quote to a customer, select a quote and click Send a message to customer - Using built-in mail sender. If Quote file field contains generated quote pdf file, this file will be attached to a created message (i.e., you have to generate and save PDF file before using this function). If you use customer portal, you can send a message using in-app notification system by selecting Send a message to customer - Send notifications to customer's users.

To create a job over a quote, or a project with jobs per each language pair, select a quote in the list and click Create translation job(s) or Create translation project button. For all created jobs the system will pre-fill all possible fields. You have to only make necessary changes, check prices and save a job. The system may behave differently, depending which button you clicked:

If you create a project, project editing window will be opened, where you can view created jobs.

If you create one job, job editing window will be opened.

If you create multiple jobs, you will see confirmation window with information about number of created jobs. Then, you can open job list and manually edit or delete created jobs.

After creating a job over a quote its status will be changed to Accepted and created job(s) will appear in Translation jobs tab of a selected quote.

Also, you can use Accept and Decline buttons. Decline button allows to mark a quote as Cancelled and provide short explanation for this. Accept action marks a quote as accepted and creates:

- new translation project with batch of jobs, if a quote contains multiple language pairs;

- new single translation job without a project, if a quote contains only one language pair.

In any of these two cases, project or job editing form will be opened after pressing this button.
You can quickly change Status for selected quotes. To do this, select necessary quotes and click Change status button on the ribbon. Select necessary status, and it will be immediately applied to your quotes.
Quote creation
To create a new quote, click New (Ctrl-N) and fill-in the form:

Fields description:
| | |
| --- | --- |
| Field name | Description |
| Date | Date of quote. |
| Sequential number | Internal numeric sequential number of a quote. Numeration follows the same settings which are specified for translation job (global or per-customer). |
| Document number | Sequential number converted using translation job format number (specified in settings). |
| Status | Status of a quote for easier management. |
| Quote due date | End date of quote validity. |
| Delivery date and time | Free text to explain your customer when particular job is going to be delivered. |
| Customer | Potential customer. Selected from general list of customers. You can create special category for potential customer. |
| Customer contact | Contact person of a selected customer. Can be created on fly. |
| Currency | Quote currency. |
| Translation project | Defines a project which this quote belongs to. This project will be used when creating a job based on this quote. |
| Responsible person | A person who created a quoted and is responsible for it. |
| Quote items | Table to describe tasks performed in this potential job, along with units, language pairs, quantities, prices, discounts and amounts. |
| Total | Quote totals (amount from Quote items table). Also allows to specify taxes and additional charges. |
| Additional notes | Formatted text to include in quote printing form. |
| Translation jobs | Allows to view job created on a base of this quote. |
| Payment policy | Free text allowing to describe payment terms for this quote. |
| Quote file | When you print a quote, you can save generated quote as pdf and attach it to a quote using this field. Later this file can be attached to an e-mail sent to a customer. |
You can quickly insert set of predefined tasks into a quote. To do this, click Insert set of predefined tasks button and select one of pre-defined sets.

File attachments tab allows to attach files to a quote. Later, if a job or a project will be created based on a quote, files will be copied to that entities so you will have direct access to them from a create project/job.

Messages
tab allows to send and view messages to other users (exchange messages between customer and manager, when you have enabled
portal for customers
).
Also, quotes support analysis import, as translation jobs and assignments. To import analysis results from a CAT tool, click
Import data from CAT tools
button and follow
default procedure of importing analysis reports
. This will help to generate and calculate quote amount much faster, as the system will automatically detect prices for each imported row.
Quote printing
When a quote is prepared, save it and click
View quote
button (or
Print
from list of quotes). If you have multiple quote forms, click on an arrow near printing button and select desired template. You will see generated quote: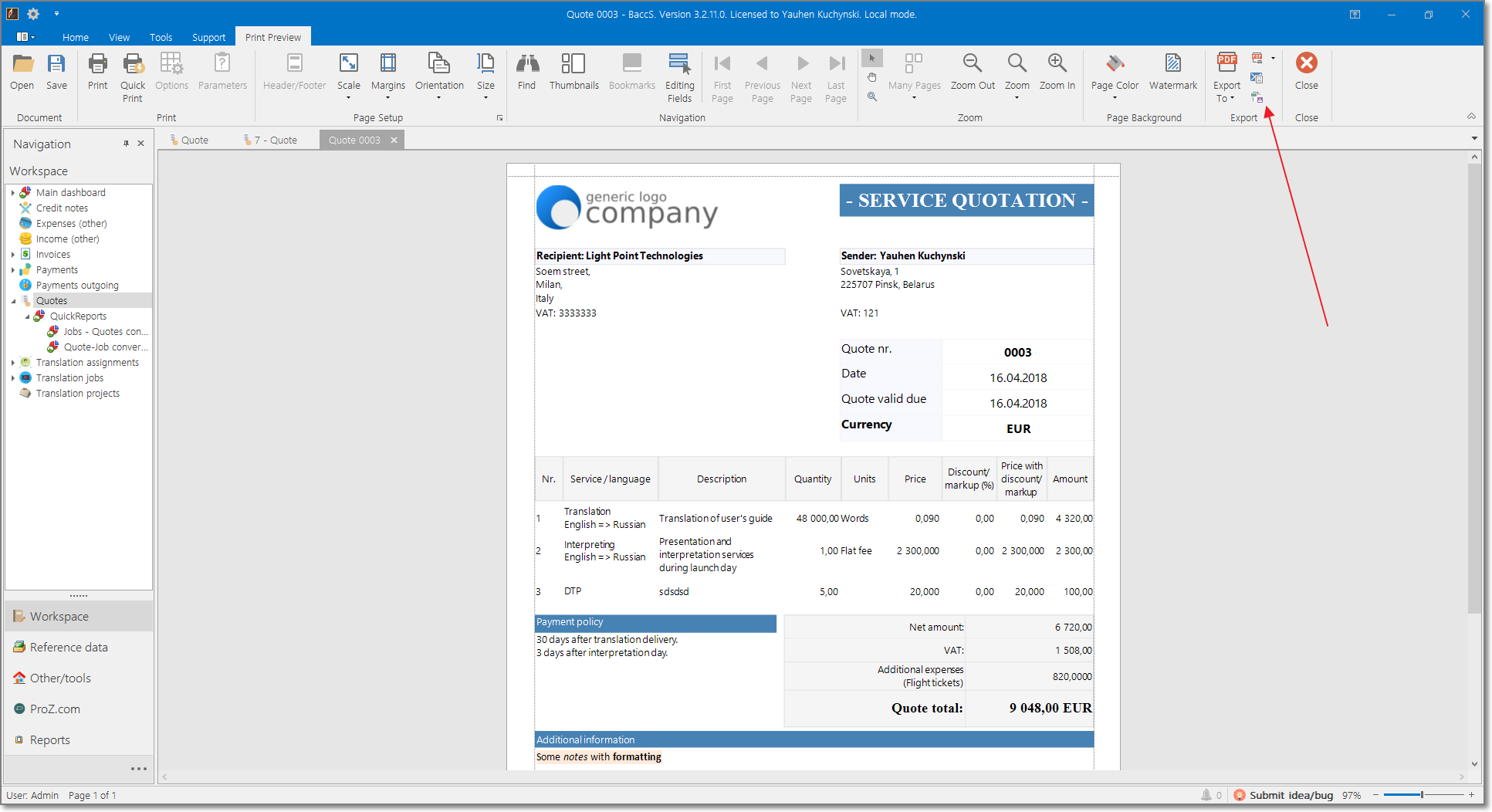 If quote template supports post-editing, make necessary adjustments right in the preview window. When done, you can:
- simply exported generated quote to any supported format (pdf, Word, Excel, image, txt, etc.);
- click
E-mail via BaccS
button to create an e-mail message and attach PDF file with quote to this message;
- click
Save as PDF and attach to a current document
to save generated quote in PDF format and put it into
Quote file
field.