BaccS allows to create user accounts for your customers, so they can login into the system, view personal information, projects, jobs, invoices, check current state of tasks, generate reports, download files, etc. When customers perform any actions on a portal, system administrators/managers automatically get notifications using internal notification mechanism or by e-mail.

In the list of roles there are 2 special predefined roles: Vendor and Customer. When you create a user and assign Customer role to that user, customer portal functionality will be automatically applied for that user after his/her login. You're free to change default Customer role, by adding or removing necessary rights. But before doing this it is strongly recommended to carefully test changes, to avoid exposure of sensitive data.

Create an account for a customer
1. Select Other/tools - Users navigation item.

2. Click Add to create a new user.

3. Set a name (login) for a user, and select associated customer from the list:


4. Then, add a new role (Customer) to the list of roles.

5. Set Change password in first logon checkbox, if you wish not to set any password for a user, and allow him/her to change it after first logon.

or

6. Click Save, and then click Reset password to manually set a password for a user. In this case, you will have to pass this password to your customer.

Portal usage
When customer logs in into the system, he/she will see simplified BaccS user interface. Navigation tree will contain fewer items, there will be fewer buttons on toolbars, and list of projects/jobs/invoices/payments/credit notes will display only entities of a customer associated with a user.

Using a portal, customers can:

- create quotes, projects and jobs from corresponding lists and attach files to them, wrote instructions and notes, but they can't add/edit jobs tasks and quote items;

- view invoices, download invoice files, view payments and credit notes, but not create/edit/delete invoices;

- edit personal data, but not all information (for example, price-list and milestones aren't available for editing);

- view a number of QuickReports (data is automatically filtered for a customer), which display aggregate data about cooperation with a customer over time.

With time, customer portal functionality will be expanded. It is planned to add message exchanging between customer and system owner, provide better notifications about prepared quotes and jobs, allow customers to evaluate quality of jobs (and automatically propagate this evaluation to contractors involved in those jobs), etc.

Editing personal information
To edit personal information, click Edit my profile link at the top of the screen:

A new screen will opened, where you can change you personal information (logo, name, address, etc.), as well as view currently assigned default rates (can't be edited), list of contact persons, associated translation jobs, projects, invoices, payments and credit notes. You can open any of these documents right form this form. Or, you can access same lists from the navigation menu, which is more convenient way of working with different types of documents.

Working with quotes
To view list of quotes, select Workspace - Quotes item in the navigation menu. A list of quotes will be opened, from where you can create a new quote or view any existing one. Click New to start quote creation process. Quote editing form will be opened: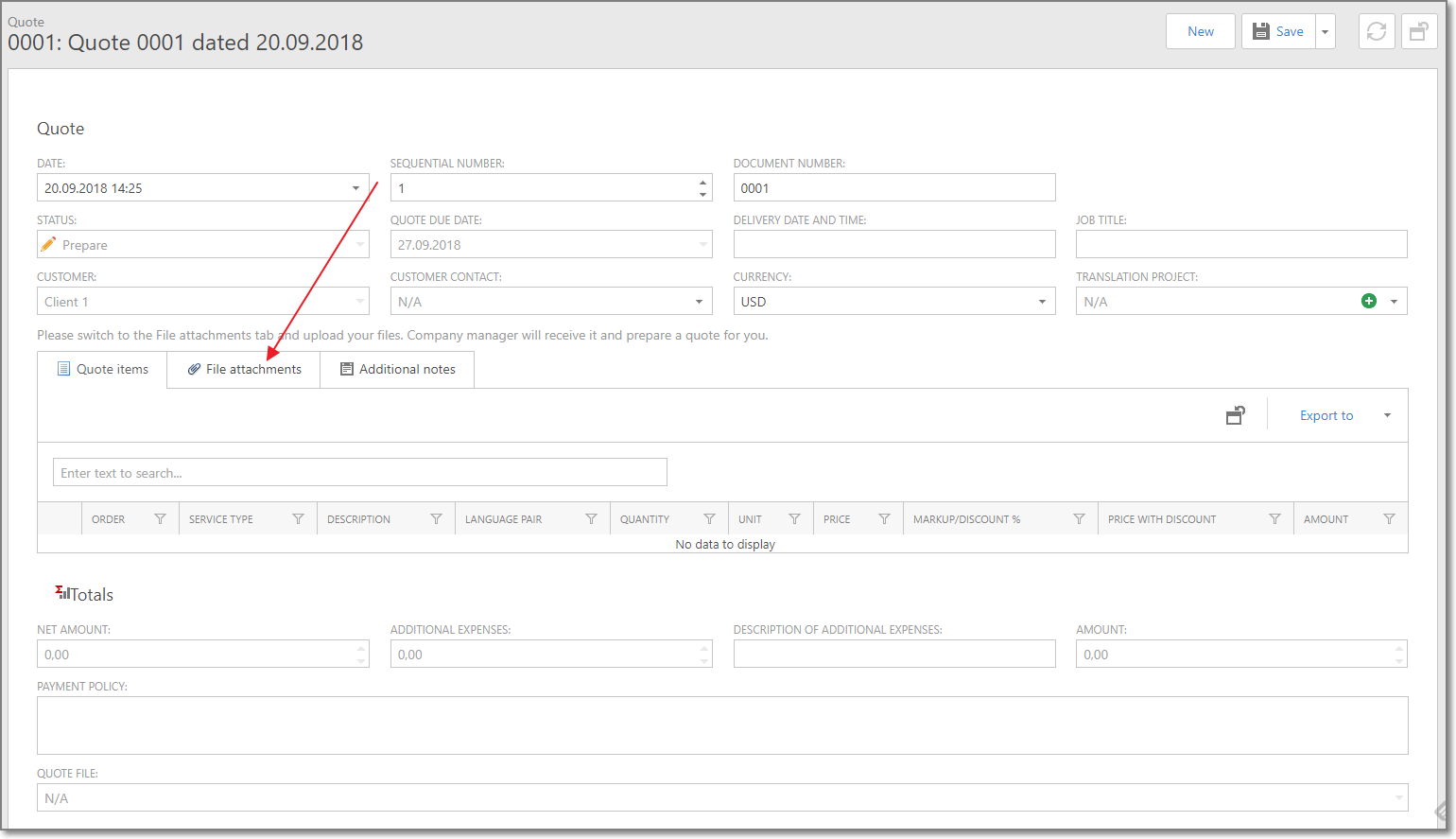 Here you can specify job title, select contact person, currency and translation project which a new quote belongs too (when necessary and when you exactly know name of project). Some fields, like quote due date, delivery date and time, status are not editable. Customers can't edit Quote items table, as it should be filled by a project manager. This is only a request for a quote.

Then, switch to the File attachments tab and upload files needed to be translated. On the Additional notes tab you can describe requested services in detail.

When ready, save a quote, and company manager will receive notification about your request. When a quote will be prepared (amounts calculated), manager will send a notification to person selected in the Customer contact field. After that, you will be able to open this quote, view quotes items with prices, discounts and amounts, and download quote PDF file, which will be available in the Quote file field at the bottom.

If you wish to ask a question or send another message to a manager, open a quote, switch to the Messages tab, and click Add button. Then, type your message and click OK.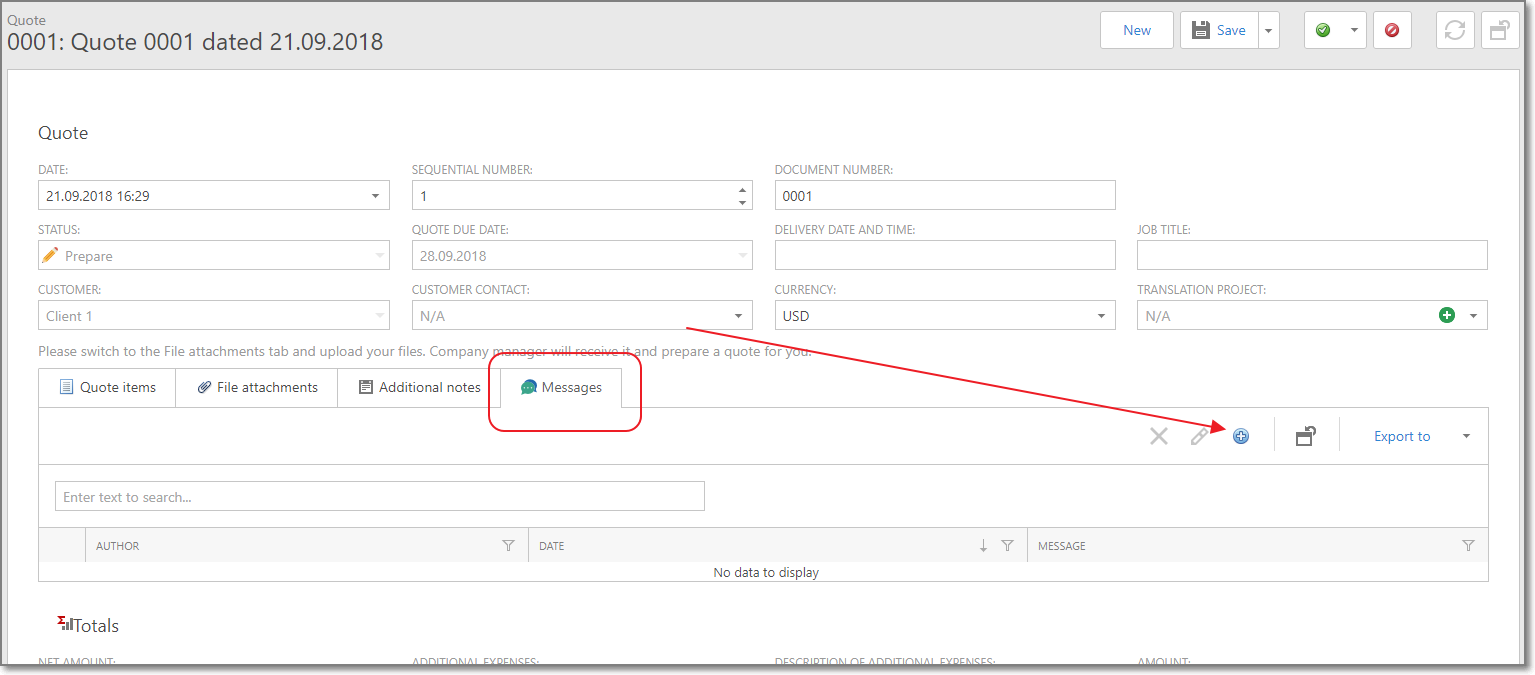 If you accept a quote and ready to start translation, click Accept quote button on the toolbar. From the drop-down list, you can choose what to create: a project with jobs, or only jobs, without project.

To cancel a quote, click Decline quote button on the toolbar. A dialog will appear, where you can specify a reason for deletion. After declining a quote, manager will get corresponding notification.


Take a note that customer can't delete quotes they created. If a quote has been created by mistake, please ask your manager, who has necessary permission, to delete a quote.

Working with translation projects
To view list of quotes, select Workspace - Translation projects item in the navigation menu. A list of projects will be opened, from where you can create a new project or view summary information about existing projects. Click New to start project creation process. Project editing form will be opened: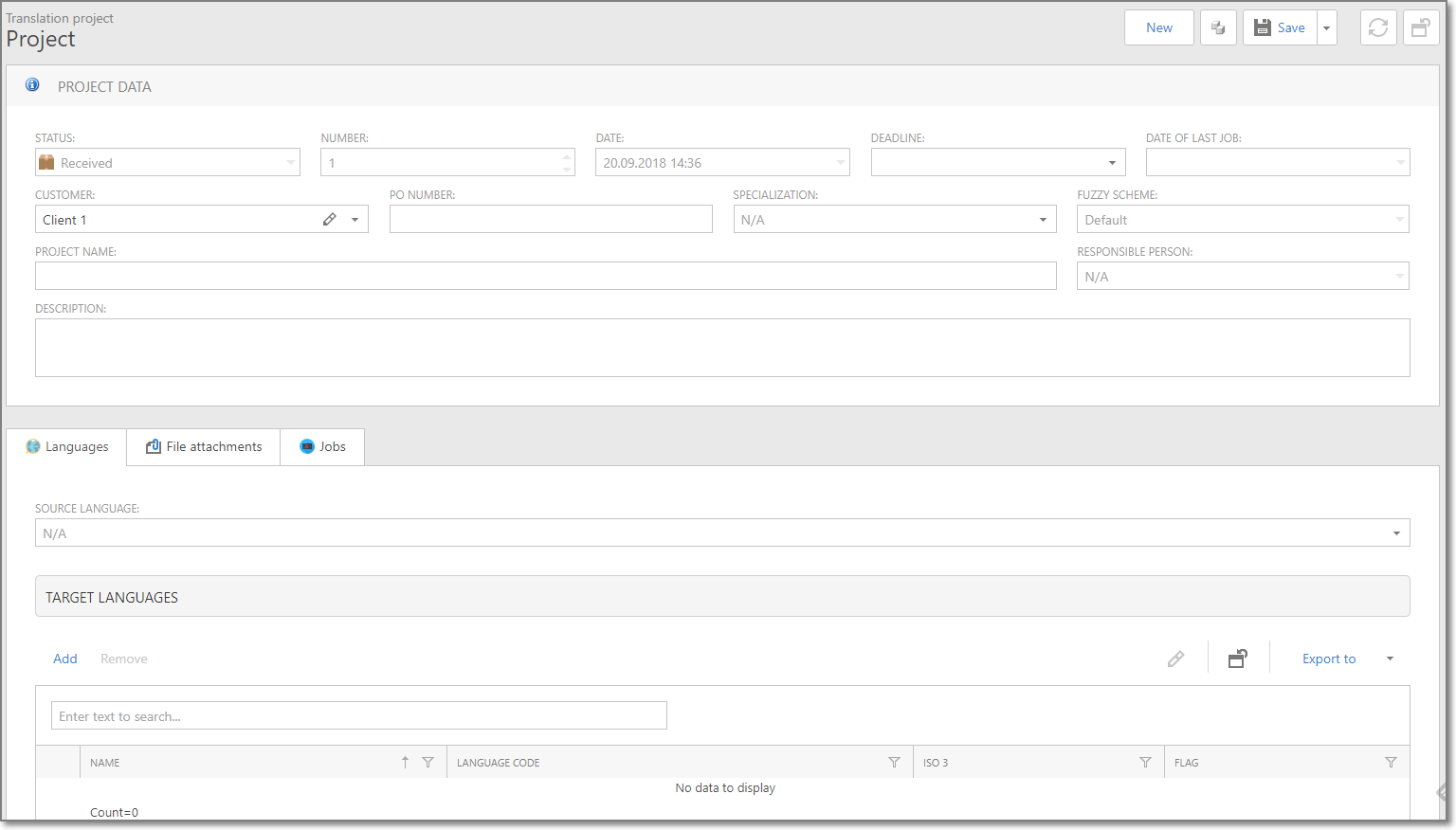 As opposite to quotes, when you create a project, this means that you give 'green light' to a company to start translation process.

Select source and target languages, upload necessary files, fill-in other available fields, and click Save. Company manager will get notification about created project, and will prepare necessary jobs.

To exchange messages with company manager, you can use Messages tab:

If you wish to create a project over a quote, please open quote list and click Accept quote button.

Working with translation jobs
To view list of quotes, select Workspace - Translation jobs item in the navigation menu. A list of jobs will be opened, from where you can create a new job or view summary information about past jobs. Click New to start job creation process. Job editing form will be opened:

As opposed to projects, translation job is created per one language pair. While creating a job, you may also select a project which this job belongs to. Also, you can upload files for translation, provide additional notes and instructions.

As with other entities, customers can't edit job contents, as it's a manager's responsibility to prepare job tasks and calculate amounts.

For messaging between customer and a manager, Messages tab can be used, as in quotes and projects.

Working with invoices, payments and credit notes
To view list of quotes, select Workspace - Invoices (or Payments, or Credit notes) item in the navigation menu. In the lists of payments and credit notes you can only view tables (with possibility to filter and search data), while list of invoices additionally allows to download invoice PDF files. To download a file, press Download PDF button, which can be found in each table row. Please note that this button is available only if a manager generated PDF file and attached it to an invoice, which is stated in the PDF column:

Viewing reports
By default, customers have access to a number of QuickReports. You can find them under Reports - QuickReports item in the navigation menu:

Customers can view not all system built-in reports, but a limited set of them. Detailed description of all built-in reports can be found
in this article
.
To view any report, simply click on it. From the report view page, you can export any chart/table to PDF, Excel or image file. Here is an example of such report and a short description of its controls: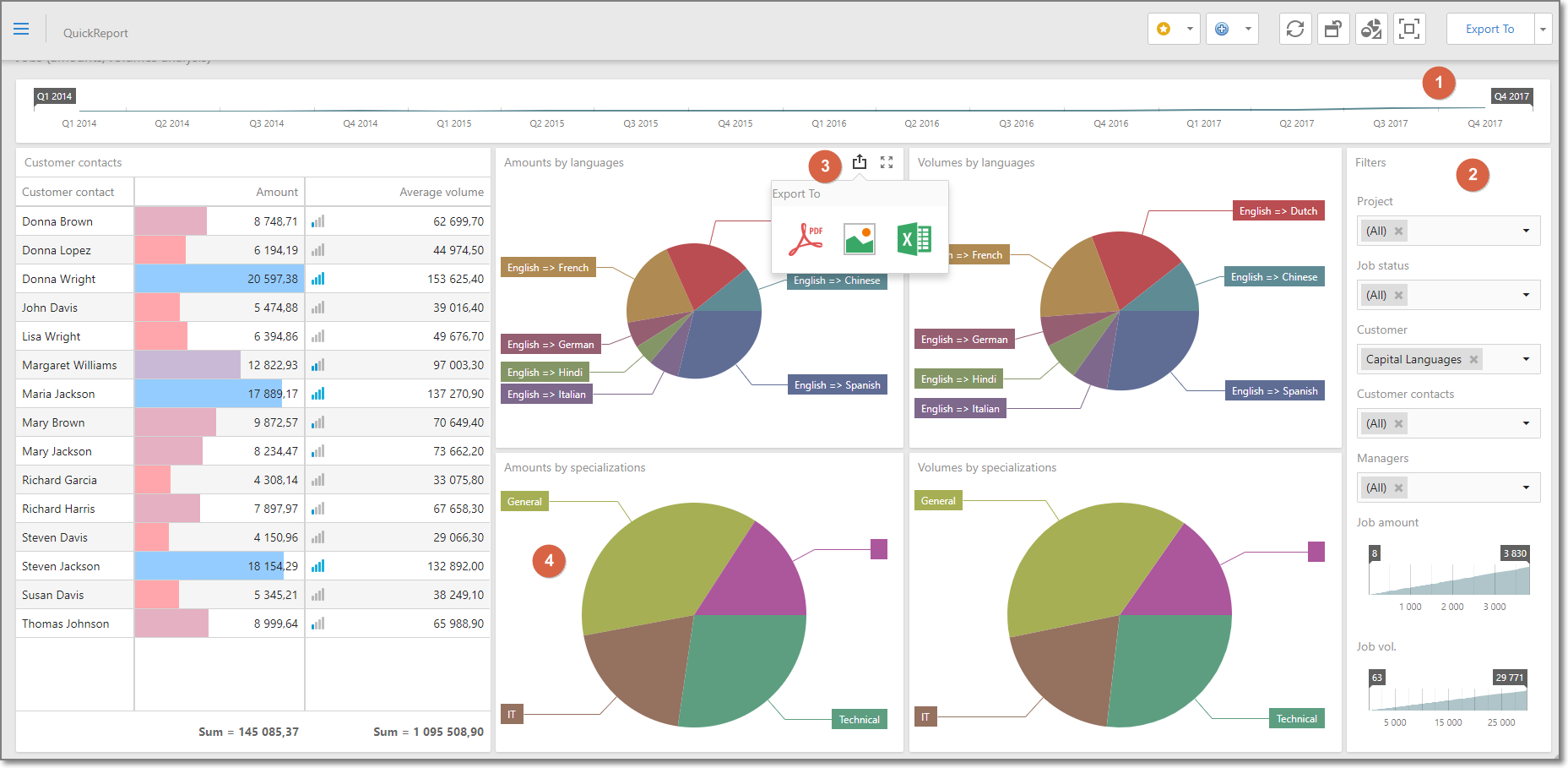 1. Time range filter. Allows to filter report's data by time period (in this case, by job's dates).

2. Filters section allows to apply additional filters to displayed data. For example, here you can filter jobs by their status and project, by customer contacts and managers responsible for jobs, as well as by job volume and amount.

3. Hover mouse pointer over any report item to view it in a full-screen mode or export its contents into a number of formats (PDF, Image, Excel). Also, you can use Export to button on the report's toolbar to export the whole dashboard into a file.

4. Some widgets can be interactive. Here you can press on a pie to view detailed information for a selected specialization category. Hover mouse pointer over a pie to view a tool-tip with actual values.