BaccS allow to post new jobs on ProZ.com without leaving your management environment. You can create new job postings based on existing translation jobs, or by cloning any previous job postings. Also, you can save job posting drafts and publish them at any time later.

To open list of job postings, select ProZ.com in the navigation tree and click ProZ.com job posting.

In this list, except possibility to create new job posting or clone existing one, you can use Import job postings button. This button allows to import your previous jobs from ProZ.com and refresh existing (for example, after publishing a job you may click this button to get updated status of a job).

To create a new job post, click New button. You will see the following data entry form: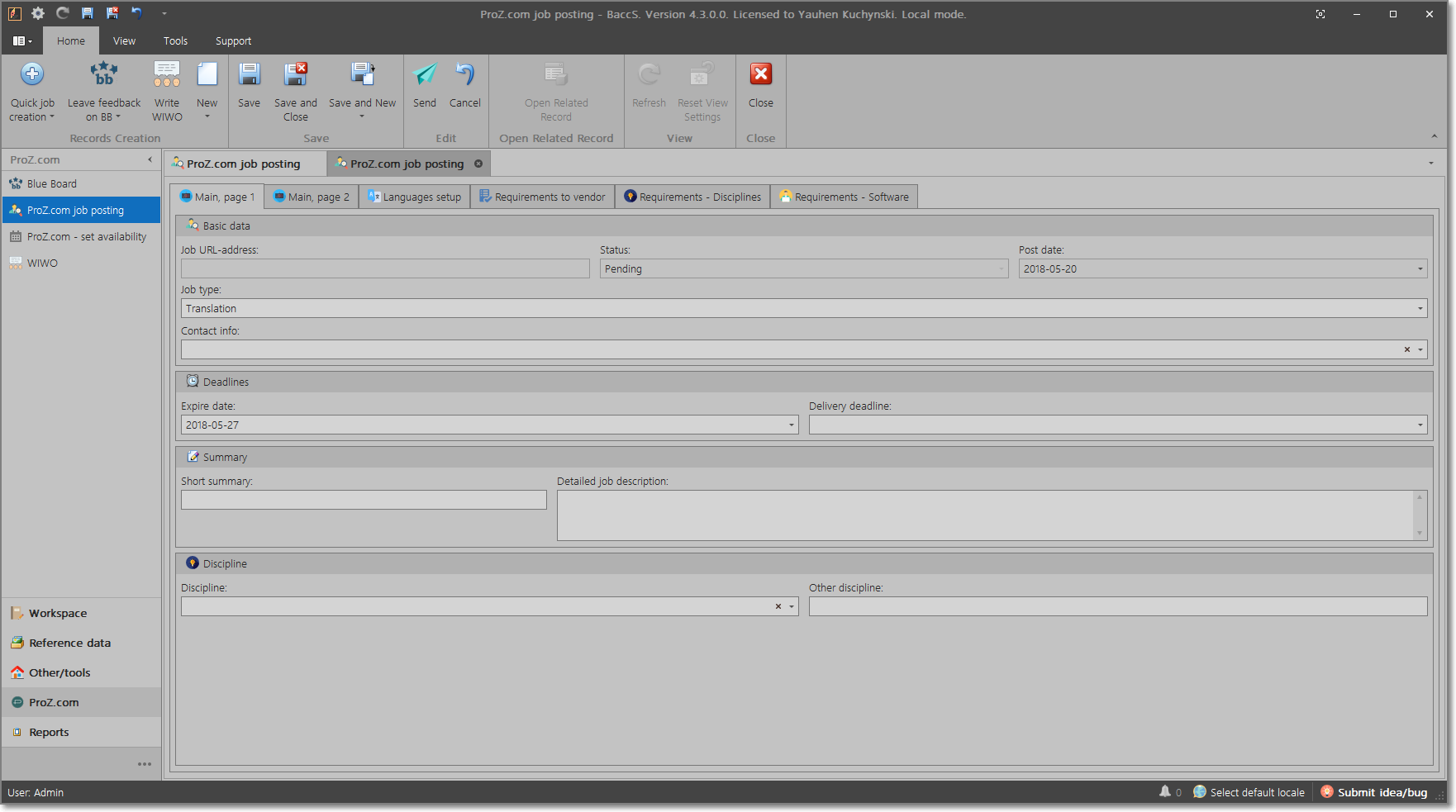 For your convenience, this form has 6 tabs, which combines set of default fields you see on ProZ.com web-site when create a new job post. In such fields as Discipline, Language services, Native language, Country, Required software you're able to select values from lists which are downloaded from ProZ.com. This means that there is no need to keep this data in local database. For example, when you expand specializations combo-box to select one, the system will download this list from ProZ.com and display values for selection: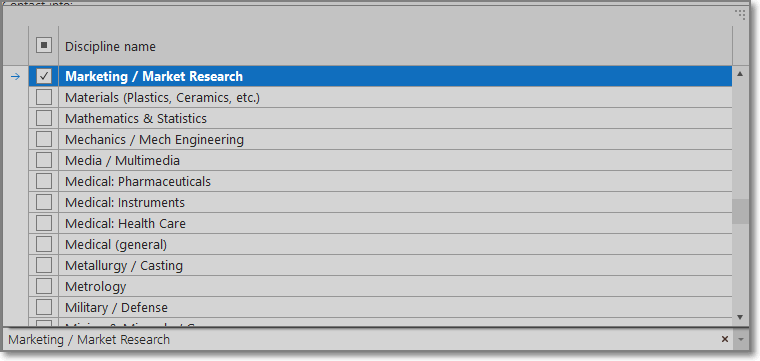 In lists which allow to select multiple values, for example on the Requirements - Disciplines tab, you click Add button and select desired values: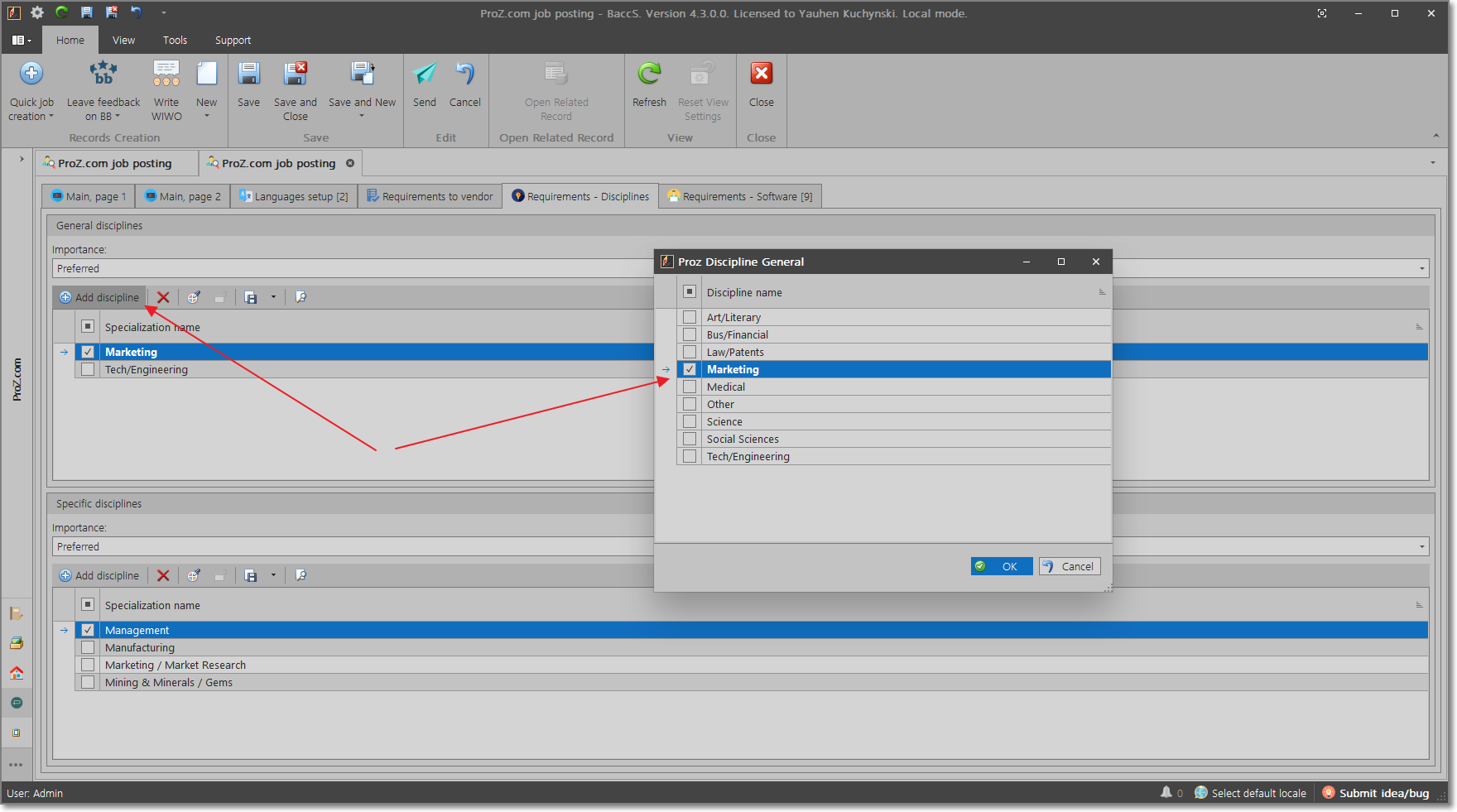 However, Required language pairs field must be filled from the BaccS database. When you click add button, you're able to select languages pairs from own list. And this places a small limitation, since BaccS must determine correspondence between source and target languages of your language pair with languages from ProZ.com database. For this purpose, Iso3 code of the language is used. So please check that this field is correctly filled in your database. Open Reference data - Languages and check values in the Iso3 column. There should be 3-symbols code of language (like eng, ger, rus, etc.). If BaccS won't be able to determine this correspondence during job publishing, you will see an error message.

To create job post draft faster, you can open any translation job in BaccS and click Create job posting on ProZ.com button:

The system will create a new post and pre-fill a number of fields (deadline, job name, short description, languages, specializations, etc.).

After filling all necessary fields you can save your job. In the list of job postings it will be marked as not posted:


To post a job, open it and click Publish this job.

You will see a message with operation results. If there were any errors, the system will list them:

Otherwise, it will tell that job posting has been successfully sent. If your subscription requires job post vetting, click Import job postings in the list to see if status of your job has been changed (to approved).