Invoice printing
You can print invoices from invoice list or from invoice editing form. In the invoice list, select one or multiple invoices and click Print button. The same button is available in the invoice editing form, but it allows to print only one currently opened invoice. There are two Print buttons in the invoice list and invoice editing form:


Before printing an invoice from invoice editing window, you have to save it, otherwise you won't see unsaved changes in the generated invoice.
The first one contains drop-down button, which displays all invoice templates you have and allows to select one to be used for a selected invoice printing. The second Print invoice button allows to print selected invoice using default settings. You may select default invoice template in the main application settings (on the Invoice settings tab). In addition, you can assign default invoice for each customer in the customer editing form. Thus, when you click Print invoice button, the system will check these settings and use a correct template. In its turn, the first Print button allows to explicitly choose a template (using drop-down list).

Please note that Print invoice button becomes unavailable when you select more than one invoice in the list. In other words, multiple invoice printing is supported only when you explicitly choose desired template.

Here is an example of the Print preview window:

One of main functions of the preview page is possibility to make final edits in the invoice. Yes, you can edit generated invoice almost as in text editor (for custom templates, this feature must be turned on in the invoice template designer). To highlight fields which support final editing, click Editing fields button on the ribbon:
Blue fields on the example above can be edited.

On the preview page you can also change page settings, print invoice, export (save) it in a number of different formats (PDF, XLSX, RTF, HTML, TXT and even PNG) or send by e-mail. To change look settings, select parameters on the left pane. For the templates which support color accents you can select one of supported colors. Simply make desired selections on the Parameters panel and click Submit to see the results. To print, export or change view scale, simply use buttons above the preview area.

To send invoice by e-mail, click
E-mail via BaccS
button in the preview window. A message composing window will be opened with pre-filled recipient, message header and file attachment. Double click on the message template used to send invoices and click
Send
. A message will be sent and appear in the Sent folder of your mailbox. Also, it will be saved in the
Mail sender
list along with attached invoice.
You can also click Save as PDF and attach to a current document to save generated invoice in PDF format and put it into Invoice file field. Later you will able to send a message to your customer with a file saved in this field. To do this, find an invoice in the invoice list, select customer contact below the table and click Write e-mail message button. Invoice file will be automatically attached to a created message:


You can also generate PDF files and send them without showing invoice preview window. For this, select necessary invoices in the Invoice list and click Generate PDFs button:


The system will generate invoices according customer settings and attach PDF files to the selected invoices. Also, you will get a question about saving PDF files on your hard drive. Click Yes and select destination, if needed. After generating of PDF files you will see marks in the PDF column, which means that these invoices has invoice files attached. To send invoices, select necessary invoices and click Message to customer(s) button: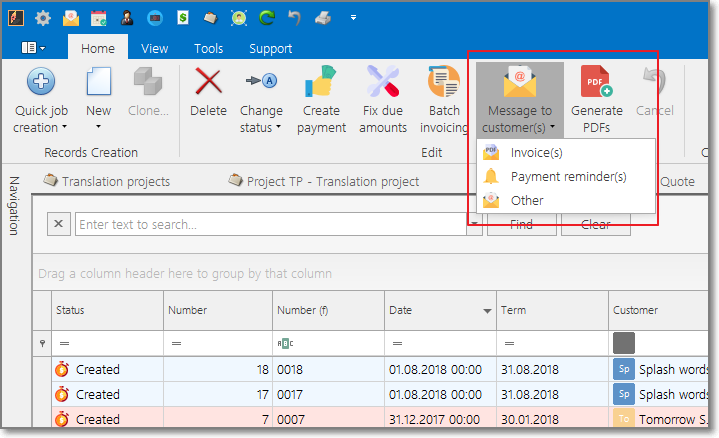 Then, select type of message you wish to generate. To send invoice files, select Invoice(s); to send payment reminders, select Payment reminder(s). The system will generate necessary mail messages. If only one invoice has been selected, message composing window will be opened. Otherwise, you will be redirected to the message list, from where you can view, edit and send generated messages.

Built-in invoice templates
The system includes 8 predefined invoice templates, which can't be deleted (but can be used as a base to create your own templates). These templates are always available when you select system default invoice template (Settings > Invoice settings > Default template), or default invoice for a customer (Customer editing form > Main customer settings > Default invoice template). Here is a list of built-in invoice templates with examples:

V1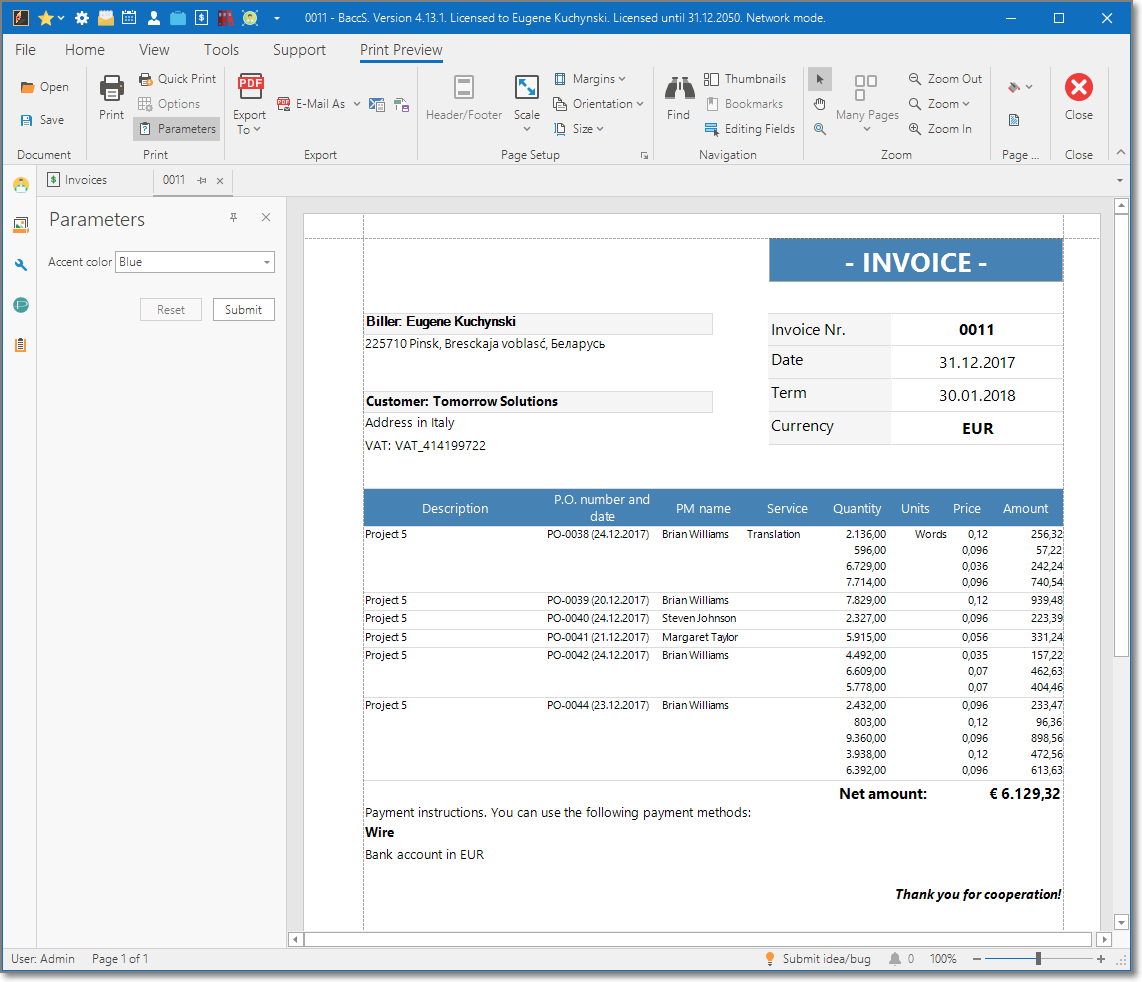 V2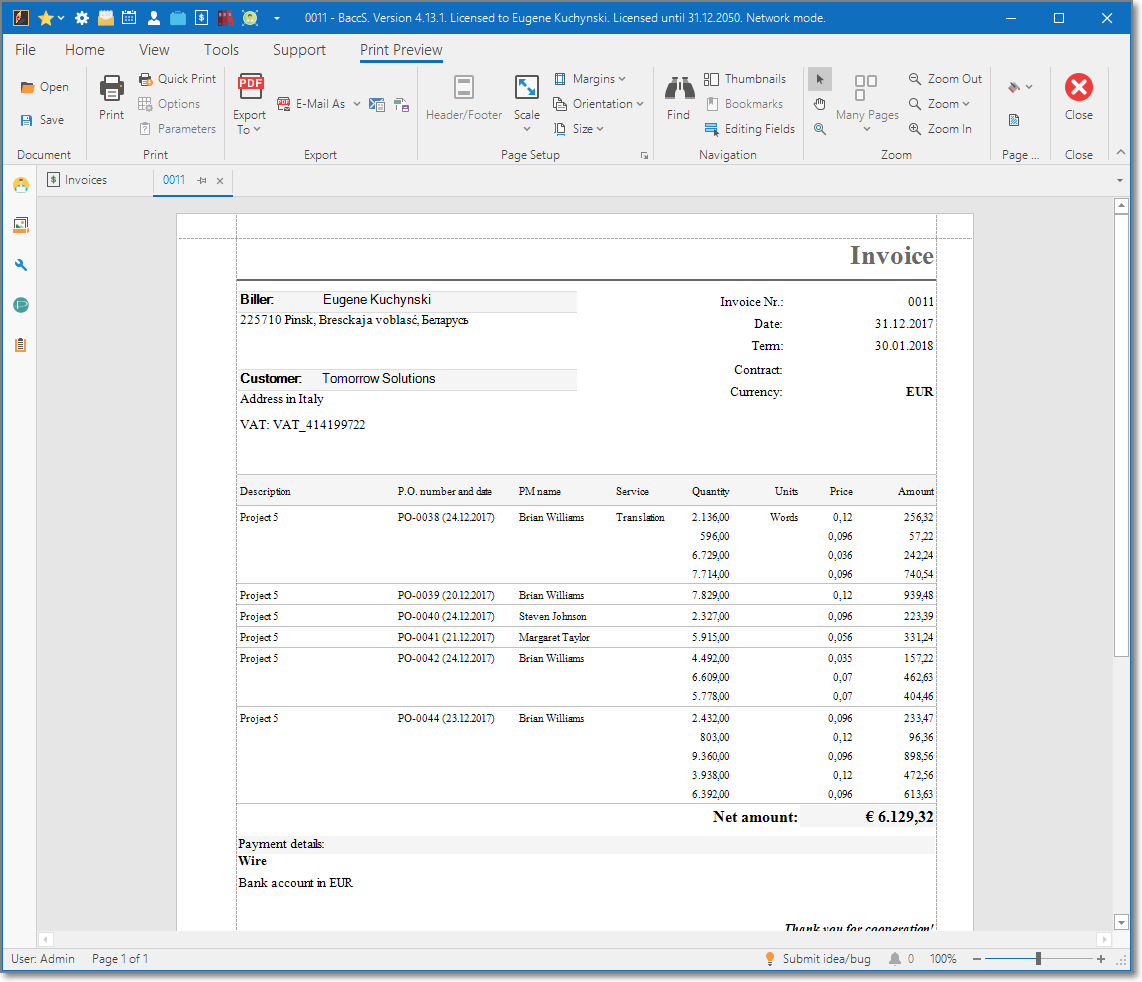 V3

V4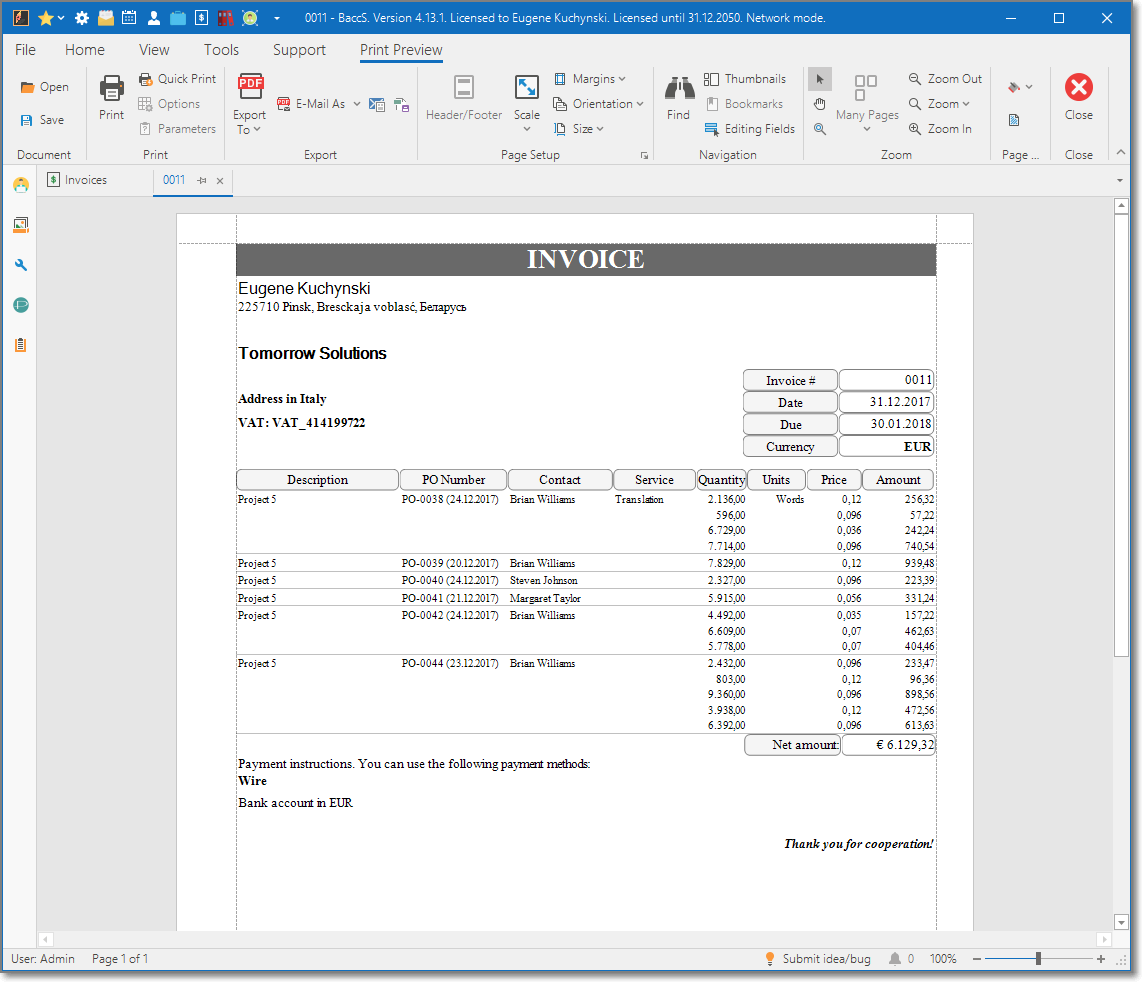 V5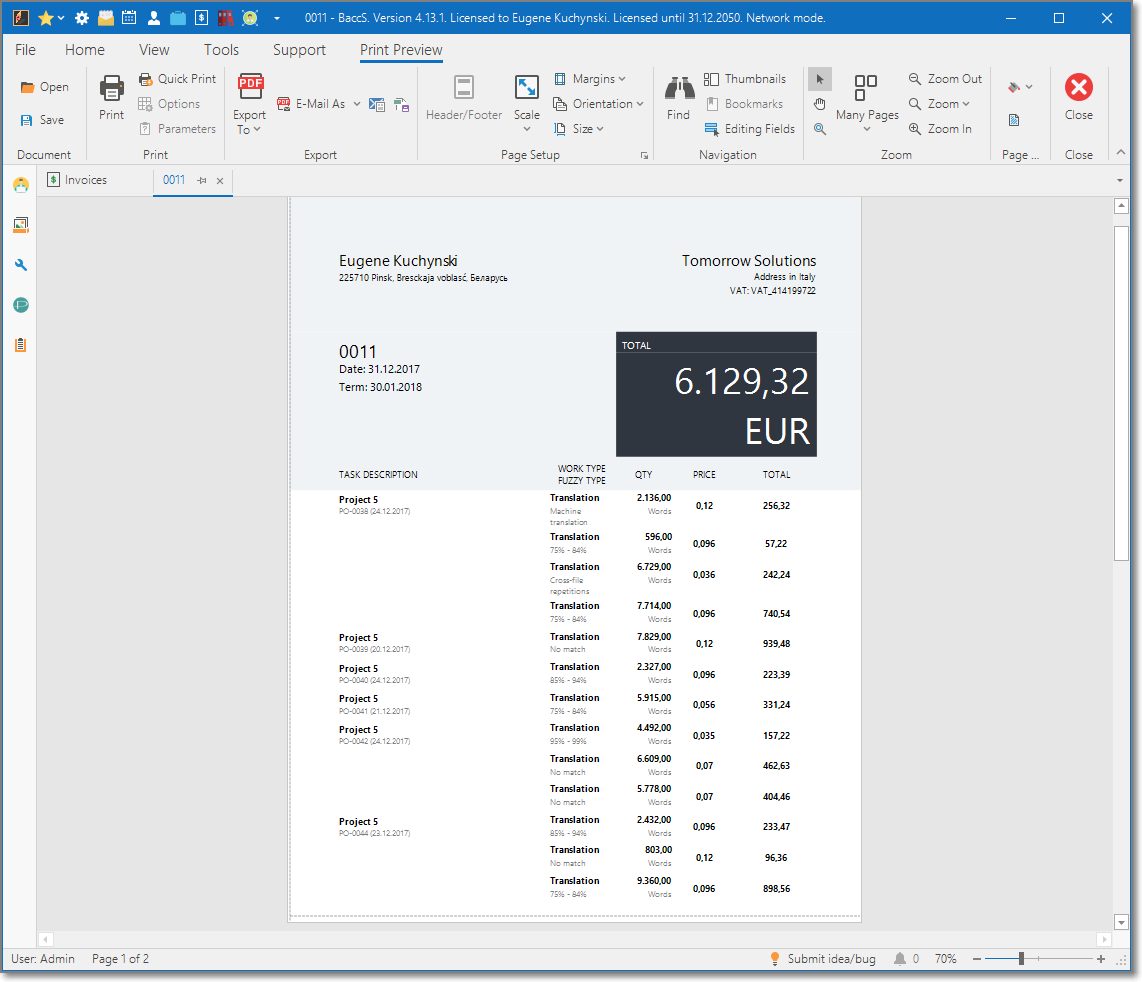 V6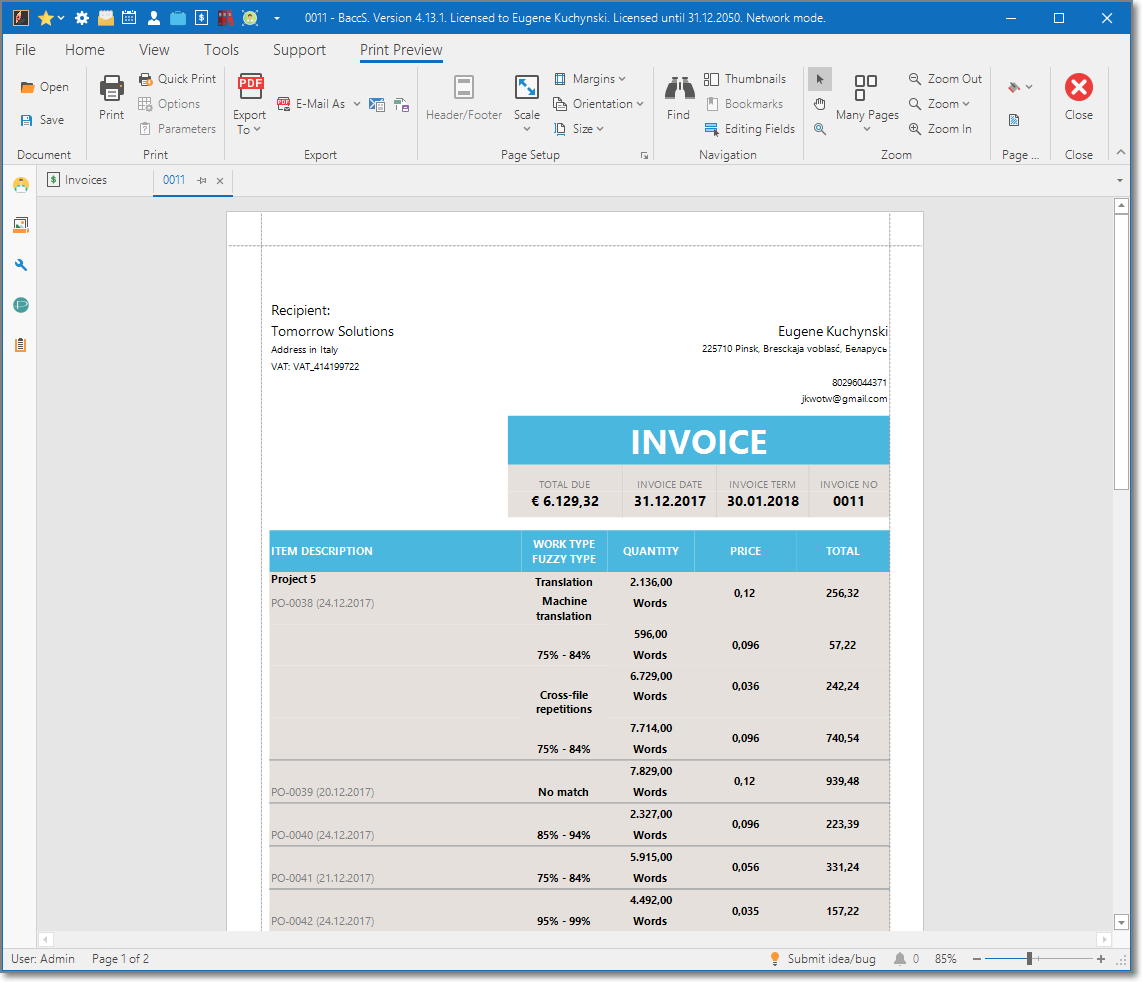 V7

V8