PostgreSQL installation
Installation of PosgreSQL database management engine is fast and simple. You can get a fully ready database server in about a minute. Just go to the
PostgreSQL
web-site, select Download and choose correct installation package (according your operating system). Depending on operating system, you will see different instructions for installation. If you use Windows, simply download interactive installer, run it and follow simple procedure of installation. No any default settings should not be changed. The only thing you need to do during installation is to select admin password. Please don't forget it, as it will be required to connect BaccS to PostgreSQL server.
PostgreSQL configuration
After installation, open PosgreSQL port (5432 by default) in the Windows Firewall.
To allow connections from remote computers to a server, open pg_hba.conf file (PostgreSQL installation directory\data\pg10\) and add these strings at the end of the file:

host all all 0.0.0.0/0 md5

host all all ::/0 md5

After that, open Windows Services (Start - Run or Win-R - services.msc), find PostgreSQL server service and restart it to apply new configuration.

Connection of client computers to PostgreSQL server



1. Run BaccS in local mode and open Settings.

2. Switch to Database settings tab.

3. Check Turn on network mode box.

4. Select PostgreSQL as Database engine.

5. Database server path: type localhost if you run BaccS from the same PC where PostgreSQL is installed, or type computer name or IP address of a server. Please ensure that server PC is available (visible) over network (in case you setup it in local network).

6. Database name: any name you wish to use for database.

7. Database user name: user name you selected during PostgreSQL installation (postgres, by default).

8. Database user password: password you selected during PostgreSQL installation.

9. User name (for chat): leave empty, as this field isn't used now.

Database backup
After installation, run
pgAdmin 4
utility, which was installed along with the server. Enter your password and confirm that server works correctly. You will see something as following:
From within BaccS, you can create and restore backups only when the program in local mode. With network mode, backups are created using corresponding database engine (PostgreSQL, in this case). Do to this, simply expand server -
Databases
- find your database, right click on it and select
Backup
:
Specify file name, select compression ratio if your database file size is large enough, and click
Backup
.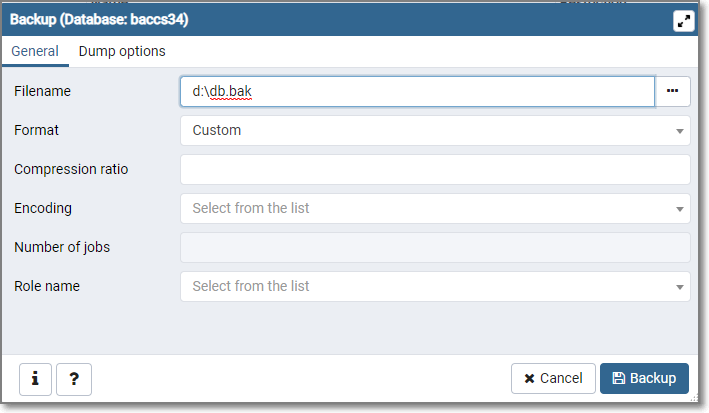 Wait while backup creation finishes.

Database restore



To restore database from backup, follow these steps:

Open pgAdmin utility and delete database you wish to restore, if it exists: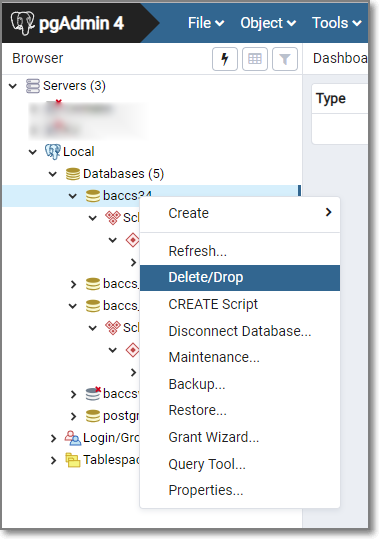 2. Create an empty database with the same name: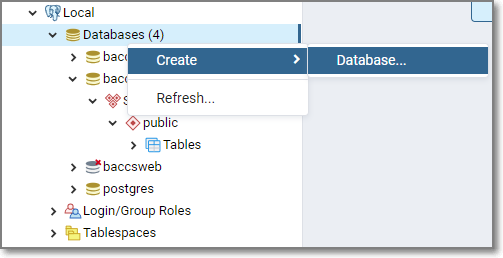 3. Right click on created database and select Restore...:

4. In the shown dialog, specify backup file location and click Restore: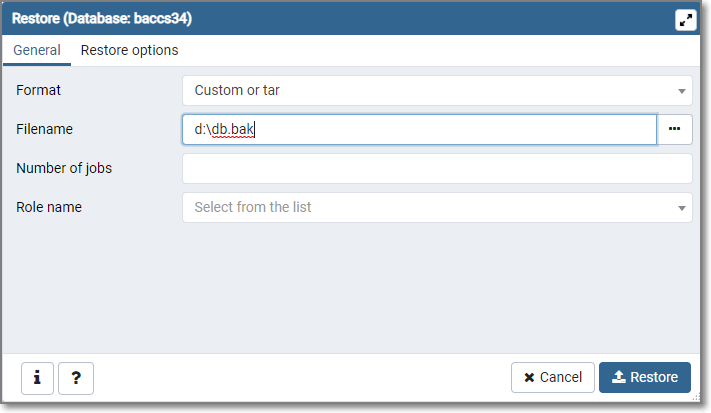 5. Wait until restore operation completes:


6. Now you can connect to restored database.