General information



Dashboards serve as a single place to display
differentiated
information about your business on a single screen. They allow to fit multiple widgets (views) on one screen, allowing to keep the most important data under control. In addition, there are a number of widgets which are available only in dashboards (not possible to open that views from navigation). For example, you can open list of jobs in a separate tab from navigation tree, but you can't view "Ready to invoice" list anywhere except dashboard.
By default, the system has three dashboards, available from the Workspace section of the navigation tree: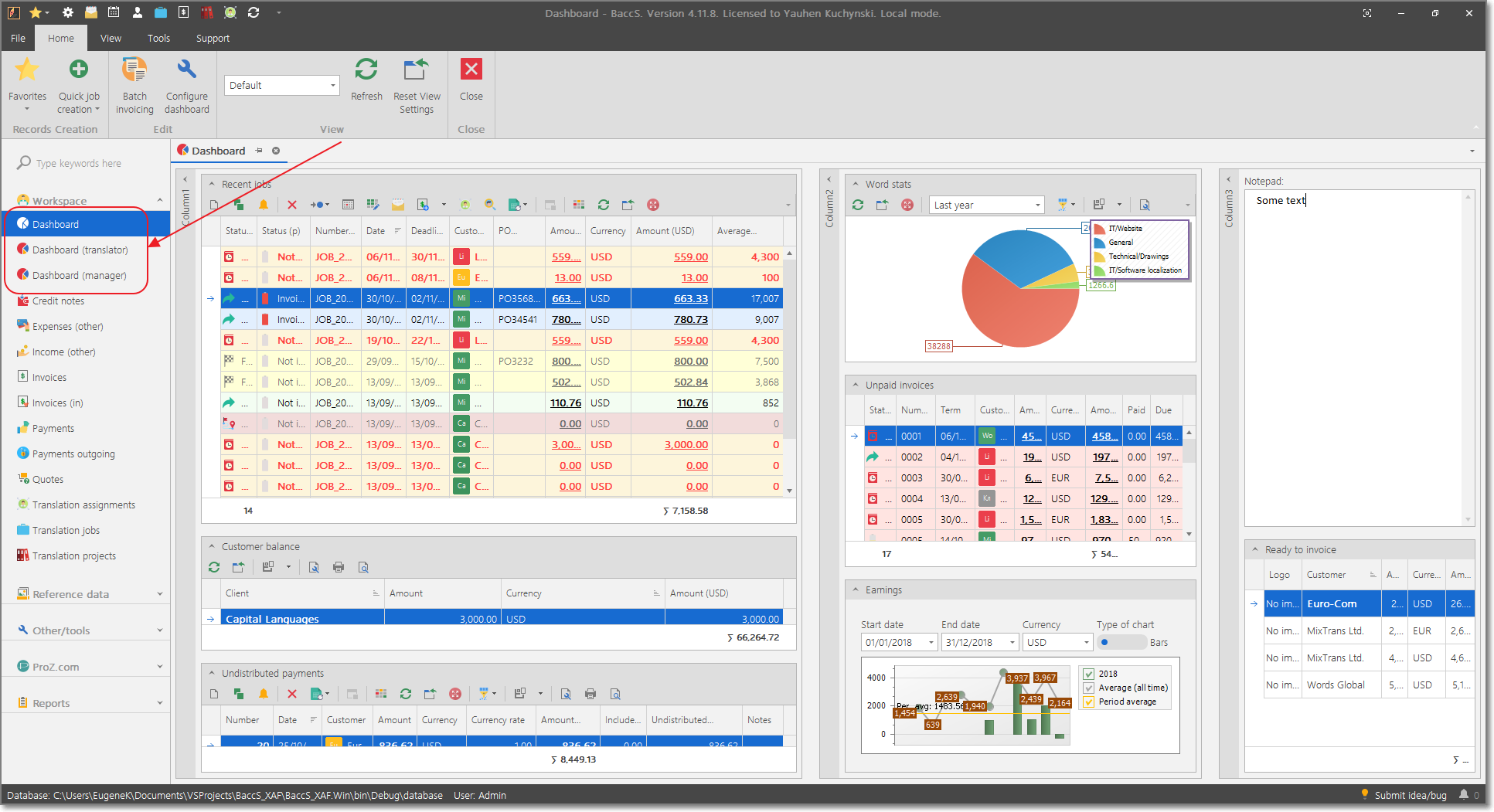 All these dashboards are customizable, and you are free to fully replace default widgets with your own views. In addition, you can define a color for each widget for better presentation.

Among default widgets in different dashboards, you will find:
Ongoing jobs

Unpaid invoices

Balance statement

Word stats chart

Earnings chart

Volumes chart

Top customers chart

Jobs ready to invoice

Undistributed payments

Notepad

Workload planner

Undelivered assignments

Unpaid assignments

Active quotes

Dashboards has columnar structure. Each column can be collapsed to make other columns wider. In the same way, each widget can be collapsed vertically, to free some space for other widgets. Collapsed/expanded state is preserved between sessions. In addition, you can find splitter between all columns (horizontally) and between all widgets (vertically), which can be used to quickly change size of necessary column or widget.

In some visual themes, splitter has no color and may be invisible. Simply hover mouse pointer on a border between columns and widgets to highlight splitter.

Most of widgets can be opened in full screen mode. For this, you can press View widget in full screen button on the toolbar. If toolbar is hidden, press F11 button.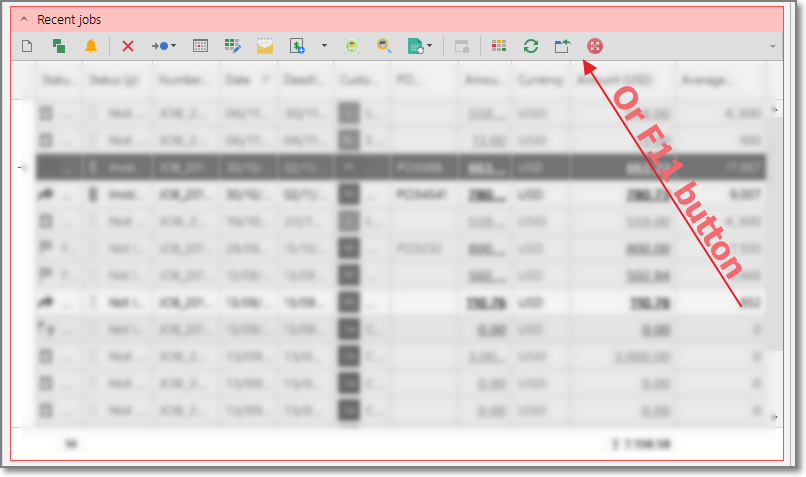 For example, toolbar is usually hidden for charts. Click on a widget with chart and press F11 top open it in the separate tab: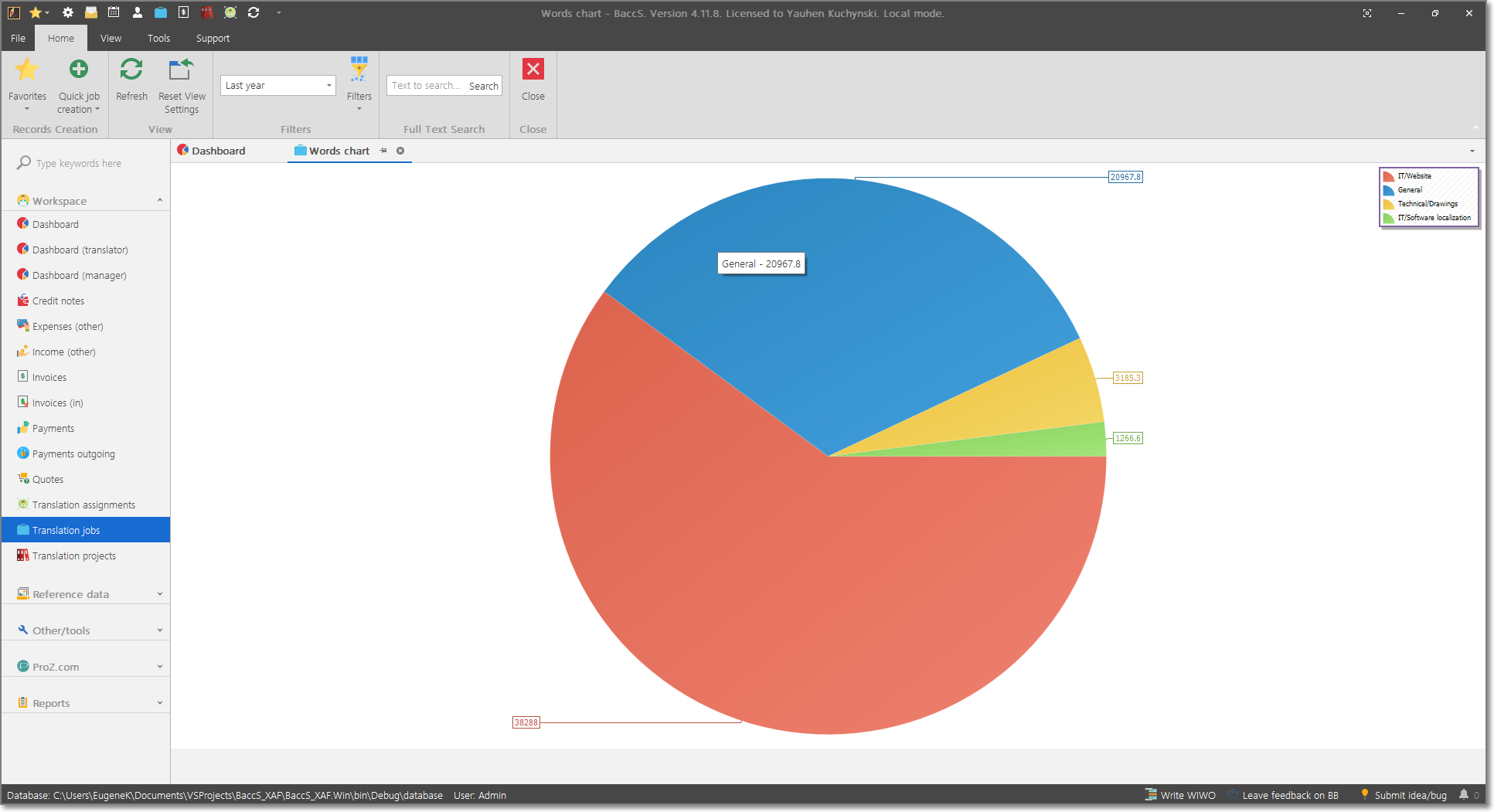 Dashboard configuration
To move, hide, delete and add widgets, you can use Configuration screen. Click Configure dashboard button:


The following screen will appear:


Here you can find list of all dashboard widgets organized by groups. There is a root group called Root. It can't be edited, deleted or renamed, and its orientations is always Horizontal.

You can edit group and widget properties. For groups, you can set caption, orientation and caption visibility. Widget properties window looks as this:


To faster move widgets between groups, you can use drag&drop functionality implemented in the tree list. Simply drag any group or widget and drop it into any other group. To change widget/group order within a group, click Increase row index or Decrease row index buttons in the list of widgets. To create a new group, click Create new group. New group will added to a group which is currently selected in a tree. However, you can always move it into another location later.

In the same manner, you can use Toggle visibility button to change visible state of a widget. Making widget invisible allows to hide it from dashboard, but not delete. This allows to quickly display it in future, without need to create deleted widget from scratch. However, if you're sure that particular widget won't be needed in a dashboard, click Delete button to fully delete it.

Widget size field allows to set widget height in percentage. When changing this value, try to follow this rule: sum of all widgets sizes should give 100 (approximately). Widget size affect only initial state of a dashboard. You will be able to change sizes later using splitters which are automatically added between all groups and widgets.

Splitters are not supported in web version. So, pay additional attention to setting widget size more precisely.
Widget color field allows to set a color of widget caption and border on the dashboard:


By default, all widgets do not have any color, and default theme color is used (usually, gray).

To create a new widget, click New widget button in the list of widgets. Main goal during widget creation is to select entity type. You can expand list of types and select one depending on requirements. Scroll list to find out which types are available (in general, it includes all reference data, all documents, and a number of additional types, like Earnings, Ledger, Book of accounts, etc.). When entity type is selected, you have to select a view (except when Notepad or Earnings chart is selected). Depending on selected type, list of available views will be different. Purpose of each view can be understood from its name. For example, of you selected Translation job as a type, then TranslationJob_ListView_ChartMonthlyValues will allow to display some chart with monthly volumes, while TranslationJob_ListView_Limited will display simple list of jobs with limited number of columns.

With time, selection of available views will be expanded, allowing to create more different widgets. Especially, more charts will be added with time.

After selecting data type and view type, you can provide additional criteria in the Criteria filed. This field provides visual filter designer, which will help to quickly build a criteria. Let's assume, you have selected Translation job as entity type, and TranslationJob_ListView_ChartMonthlyVolumes as a view. To display uninvoiced jobs for a particular customer, you can provide the following criteria:

Now, this chart will display volumes for Capital Translation with Not invoiced status.

When you made all necessary changes, don't forget Apply changes in the list of widgets. Otherwise, your changes won't be saved. Then, close configuration window, and your changes will be immediately applied to a currently opened dashboard.

Configuration examples
Here are few examples of layouts and recommendations how to build corresponding tree on the Dashboard configuration screen.

Example 1.

Tree structure:

Root


Group 1 (vertical)

Group 2 (horizontal)


Group 3 (horizontal)



Example 2.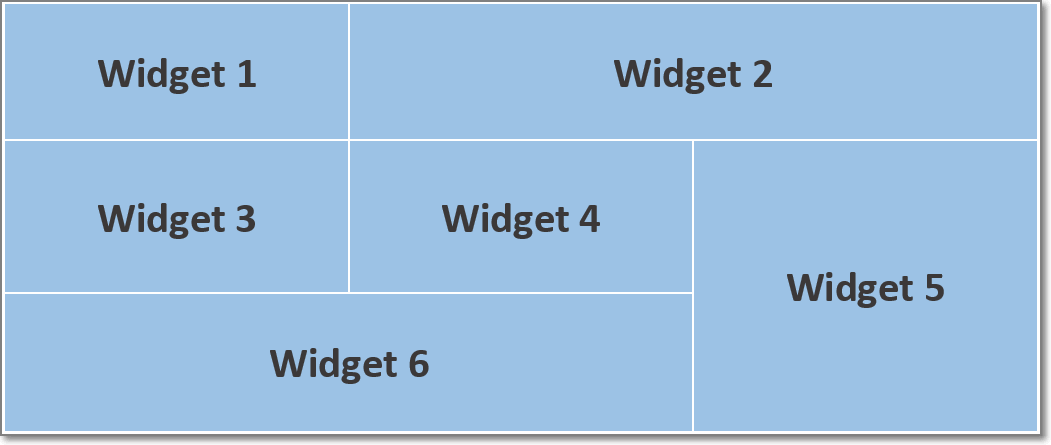 Tree structure:

Root


Group 1 (vertical)




Group 2 (horizontal)

Group 3 (horizontal)




Group 4 (vertical)


Group 5 (horizontal)




Widget 6

Widget 5



Example 3.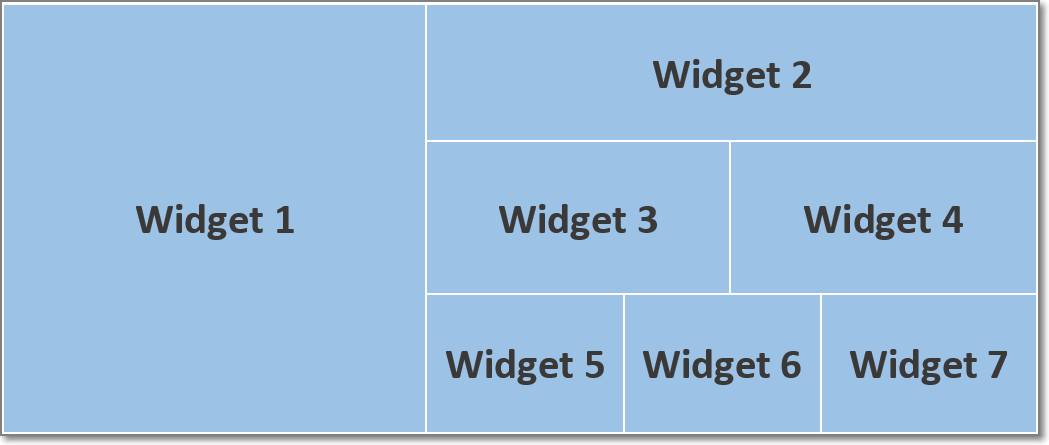 Tree structure:

Root


Widget 1

Group 1 (vertical)




Widget 2

Group 2 (horizontal)

Group 3 (horizontal)