Overview
This type of reference data allows to create predefined lists, which can be quickly inserted into translation projects, jobs and assignments. Checklists are used to define custom workflow, reminding your or your vendors to performs some actions before delivering a project/job/assignment. Each item of checklist has priority and explanation. Depending on priority, each item gets different color.

To view a list of custom checklists, select Reference data - Checklists in the navigation tree. Checklist creation window looks as following: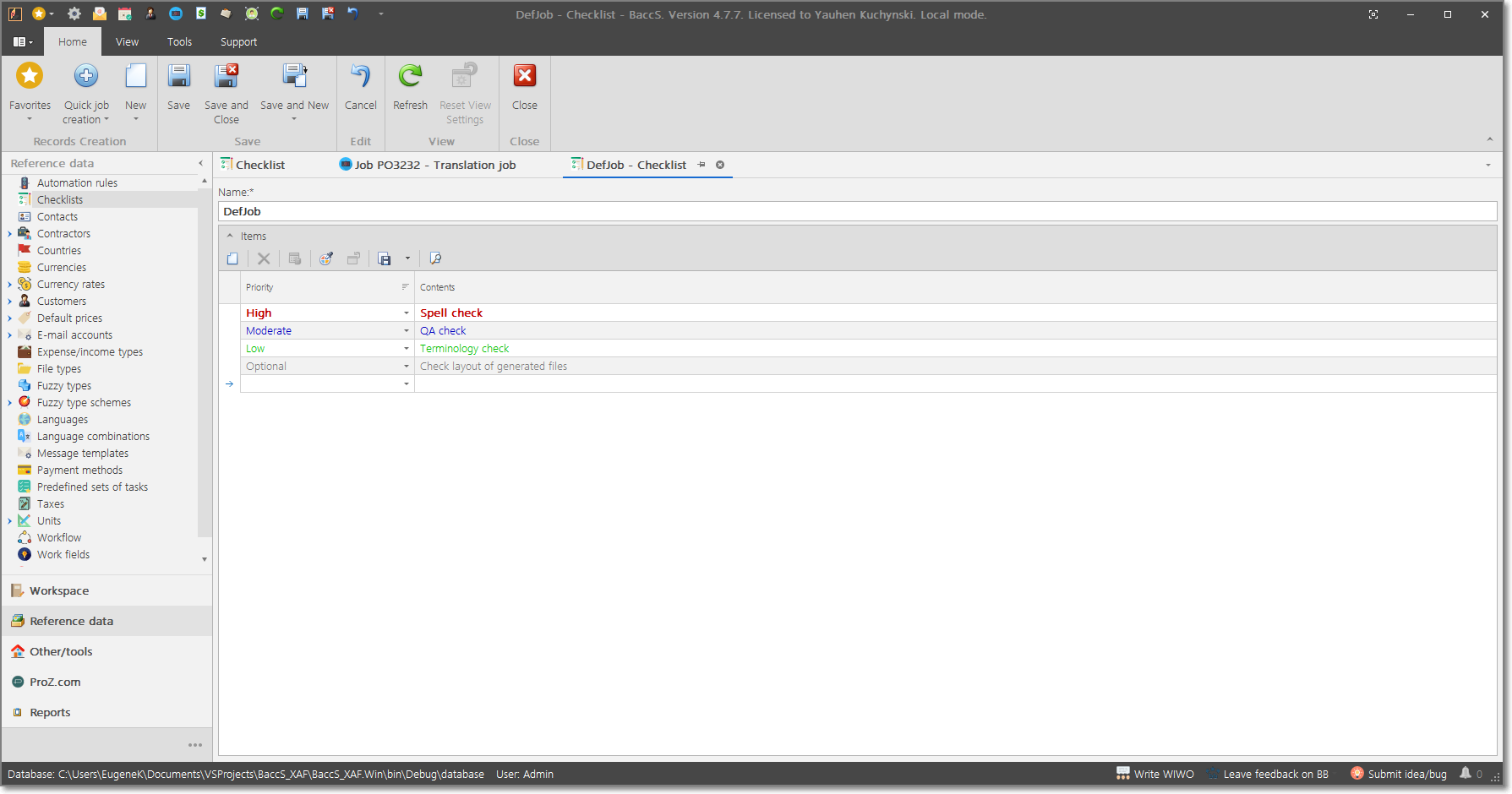 It contains only Name field and a table of items. For each item you can set priority and explanation text.

You may have as many predefined checklists as needed, and then insert them into translation projects, jobs and assignments. Additionally, you can select some checklists as default, so they will be automatically inserted into corresponding entities when they are created. To set default checklists, open Settings - Application settings, and find Checklists group. This group contains three fields, which allow to select default checklist for each type of entity:

Checklists usage
Editing windows for translation projects. jobs and assignments contain a tab called Checklists. If any default checklist is selected in the application settings, a table in this tab will be filled automatically when a document is created. Additionally, you can use enter rows manually here or use Load button to load a checklist from reference data:


After loading predefined checklist, you can edit and delete created items as needed. To mark an item as completed, click on the checkbox in the first column, or select any number of rows in a table and click Mark as completed button on the toolbar.

Main list of projects/jobs/assignments contain a column called To-do (this column is hidden by default, and you have to use Column chooser to display it), which displays number of checklist items which are still not marked as completed. Take a note that this number does not include items with Optional status.

When you use a checklist in a document, then the system will track existence of uncompleted items when status of a document changes to Finished, Sent, Paid, Delivered, and similar. If any uncompleted checklist item exist, the system will show a warning and won't allow to save a document until all checklist items will be marked as completed (except those with Optional status).